Try this idea for a quick, inexpensive way to organize and dispense elastic, ribbon, twine or yarn.
Approximate Time: 15-30 minutes
Supplies:
Heat-in-the bowl soup container
Ribbon or paint or paper or fabric
Craft glue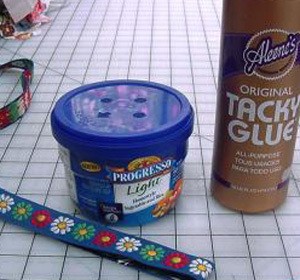 Instructions:
Empty your soup container, wash and dry it. (I use containers from Progresso soup but any variety that offers a plastic, snap-on lid will work.) I remove the paper label that covers the outside of the container.

Attach a length of cute ribbon around the upper edge of the container using craft glue. You could choose to paint the outside or cover it with paper or fabric.

Roll elastic into a loose ball. Make the ball small enough to fit inside the container. Thread the loose end of the elastic though one opening in the lid and attach the lid back onto the container. You can then pull out the required length of elastic needed for your project and snip with scissors.
This container works equally well to dispense ribbon, small balls of yarn, or twine!
I sit the container inside a drawer on my sewing cabinet. My elastic is contained (rather than tangled up in other sewing supplies) and is always close at hand when needed.
By Pam from McMinnville, TN