April 22, 2010
0

found this helpful
If she appears to be okay, the only issues I could think of are either picking up fleas/bugs, or getting pregnant (if it's female, and hasn't been spayed). Good to know your kitty found its way home!
April 22, 2010
0

found this helpful
Is she up to date on her shots? You could always give her vet's office a call, and ask them this question. They can probably give you some simple advice over the phone, and if there are any serious concerns, they'll recommend a visit.
I'm so glad you got her back! One of mine got out once. He was sitting at a screened window, and a stray came to the other side and they started fighting. They managed to rip a hole in the screen and my cat shot out after the other cat!
I was so scared we'd never get him back. It was dusk and he's blue/grey (looks like a Russian Blue). I found him in some bushes, and lured him to me with a can of cat food. :-) Whew! When we got him inside, I checked him over for any scratches or bites. He had been outside for maybe 10 minutes. The only thing I found was a tuft of orange fur stuck in his claws. I guess he showed that stray cat!
I hope your kitty's health turns out a-okay! Let us know how it goes.
April 22, 2010
0

found this helpful
Kittens in 63 days maybe.... Also check her for fleas. You don't want those in your house!
April 22, 2010
0

found this helpful
My cat seems to be doing really well, it seems that she may have worms, about being pregnant not sure but there's still that chance that she could because she ain't fixed. She has been out for one night and a full day. W e were just glad that we got her back, thank god.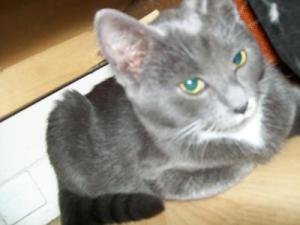 April 22, 2010
0

found this helpful
Check this link: www.vet.cornell.edu/.../felv.html
There's also a chance of her contracting feline leukemia if she came into contact with a stray who's infected. The virus can be passed by contact with urine or feces but also from a bite or something as seemingly harmless as cats grooming each other.
Would take her to the vet to see what the incubation period is on that and if she needs a workup-- to be on the safe side. May also consider having her spayed for her long-range health and your peace of mind if she gets out again.
April 22, 2010
0

found this helpful
I would say the fact that she came home means more than likely she will be ok. Mine get out all the time, and I watch them as they play on the stairs. There are dogs around here that kill cats, and kids with BB guns, all sorts of trouble. As long as it came home it should be fine..there is always the regular vetting they need such as flea treatments and some shots. Rabies is one of the vaccines I never do without.
Also don't use the over the counter flea spot treatments. Also I like to give my cats a vitamin or supplement, right now I am giving them a fur ball treatment but I can tell they need more vitamins. I am going to start giving them a drop of infant vitamin drops every day on their food, and a little bit of olive oil to lick off their paw or their coat.
I usually have a few foster cats most of the time. Hoping there wont be so many unwanted litters this Spring, but there always are. :)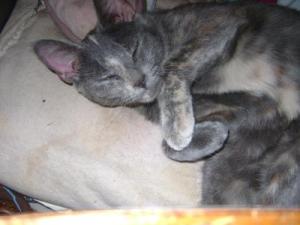 April 25, 2010
0

found this helpful
Congratulations for being an environmentally responsible pet owner and keeping your cat indoors! I'm so happy to know that she made it home ok. I'd brush her well and watch her for signs of fleas. I'd also take her to the vet and get her microchipped - it's great insurance.
December 16, 2010
0

found this helpful
Go get her fixed now.