January 9, 2008
0

found this helpful
I have never used them, but in the past, I have bought a green plastic disk at Bed Bath and Beyond which goes in the vege drawer of your fridge. It does definately work. I havent seen it anywhere else but there.
January 11, 2008
0

found this helpful
I am on my 2nd order, I love them, and they definitely work for me, you can use them inside out also. The more times you use them the lighter the Green gets, the way I keep track of how many times I have used them, is after I rinse them out I take a Magic marker put a line on the seem on the bottom. I have had food go bad, but nothing last forever.
My neighbor bought some and she made the comment that her tomatoes got moldy and I asked were they wet and she said no she left them on the stems and the stems got all moldy.
Another 1 you may well look into is the gold bags; they're supposed to be for bread and cookies.
My bread went moldy, so I lost 1, they are excellent for cookies in chips, I've had tortilla chips last a month and they're just as crisp as the day I put them in the bag. I hope this helps to make up your mind, they are well worth the investment.
Babbie
By Lorrie (Guest Post)
January 11, 2008
0

found this helpful
I bought the bags from QVC and they DO NOT WORK. I threw them out.
January 14, 2008
0

found this helpful
I have not used them,have not even checked on the price, but I LOVE the new Reynolds Vacuum Sealer that you can buy at WalMart in the grocery store. It is found where you find the Ziplock bags. They are very inexpensive, and the special bags are inexpensive also. The machine is $10.00 and the bags come in two sizes. Both sizes are $3.00 a box, and the there are 14 quarts or 9 gallons in a box. They are easy to use and, although it doesn't say they are reusable, I have reused many of them, depending on what I have put in them. They use 6 AA batteries, but I have been using mine almost daily and sometimes several times a day since Thanksgiving and my husband just replaced the batteries last night. I can chop a head of lettuce, put it in the gallon bag (I add a paper towel, but don't know that it makes a difference.) I just used the last of a bag yesterday when I made a salad for lunch. I had filled the bag almost 3 weeks ago. They are easy to open and re close.
I keep veggies ready for snacks in them...baby carrots, green pepper strips, celery sticks. They are great. I saved some green onion tops in a bag to use in a stir fry for a couple weeks, and just had to trim the ends a little when I used them.
Harlean from Arkansas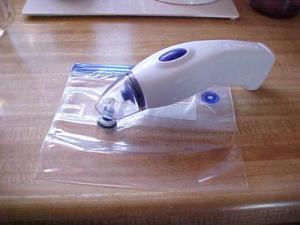 By GAYLE POTTS (Guest Post)
March 19, 2008
0

found this helpful
Yes, I have them and they work. I kept tomatoes for 3 weeks at room temp and they were just fine. Cabbage for two weeks. I love them and am thinking about giving them as gifts to my family and friends.
By Paizley (Guest Post)
June 23, 2008
0

found this helpful
These things really do work! The first thing I used them for was bananas & BOY! What a difference. They last SOOO much longer. They don't make perishables last forever, but they do give them a longer shelf life . . . saving you money in the long run. You can buy these now at Walmart for 9.97 & use them over and over.
By americanmom (Guest Post)
July 15, 2008
0

found this helpful
I bought a box at my local CVS pharmacy. I have to say that I am VERY impressed! They definitely work and our produce has lasted longer. I've had a head of lettuce in one of the bags for 7 days and it has not shown any sign of aging or going bad.
I've "experimented" by also rinsing and not drying produce off (strawberries and grapes). They still work and there was no sign of mold in the bag. Well worth the $9.95 investment, especially since each bag can be washed out and used up to eight times.