October 31, 2008
0

found this helpful
Preserving the mini pumpkins, as far as I know can't be done. Some gourds, will dry in time like your usual gourds do, I have some small ones that did dry & sprayed them to make them shiney. Sweet Gum balls are dried as they fall off the trees turning brown, they as well as pine cones can be sprayed and make lovely items on wreaths & in center pieces.
By mickey1225. (Guest Post)
November 1, 2008
0

found this helpful
Hi I have dried small pumpkins and gourds on my windowsill (live in South Florida so the sun is hot) and have learned the hard way to put a piece of waxed paper down first. The gourds will mainly dry true to form. My grandkids love to shake them and hear the seeds rattle. The pumpkins shrivel up into very interesting shapes.
The family, gramma(me), my children and their children, clean the gourds and pumpkins and sit around the table and paint them in sometimes extremely interesting colors. Once dried, they are sprayed with craft preservative and then are used for Thanksgiving decorations or in the case of the pumpkins for Halloween decorations.
November 3, 2008
0

found this helpful
If your gourds are mature enough, they should dry up on their own. Some will; some won't. You have to keep them in a dry place, and it is helpful to wipe them down with bleach to prevent mildew growth, although I have had some keep for years without doing that.
Pine cones can be sprayed or not as you please. They will keep either way. It isn't necessary to do anything to them to preserve them.
November 3, 2008
0

found this helpful
Use pine cones and a small set of lights (25 lights). Kind of mix the lights in and about and plug in. Very cute.
November 4, 2008
0

found this helpful
Sweet gum pods and pine cones don't need ot be preserved, but you can spreay them if you like.
Gourds usually dry on their own, but the only way i've ever seen mini pumpkins preserved was that they were dipped in some kind of clear silicon. I would think to try coating them with cheap clear silicon calking. you can get it $1 a tube at Dollar General or Big Lots. I'd make sure no air holes were left at all... maybe I'll try it myself!
good luck!
By Robin (Guest Post)
November 5, 2008
0

found this helpful
The pine cones need to be baked on a lined cookie sheet or disposable allum pans. They open and sap when they warm up which can cause quite a mess.Also they have little bugs. I put then in a 150/warm setting oven until open it depends on what type of cone it is. Let cool sap is like hot glue. The pumpkins can be kept in a cool dark place with limited success. Try winter squash instead. All different shapes and colors. Mine kept all winter. You can also eat them if you don't treat them with anything. Also great fresh food for my iguana. I have gourds that have lasted for years. Top of a fridge or freezer works best. Good luck.
June 12, 2010
0

found this helpful
Do I use lacquer to preserve an actual bird's nest? I had one that fell onto the top of my car, and it's actually quite marvelous to behold how this little life force built this nest which was strong enough to not splinter upon impact.
Only the dried mud used fell away, but the integrity of the structure remained intact. There's no way I can climb up 15 feet to replace it, so I'd like to preserve it. Any suggestions?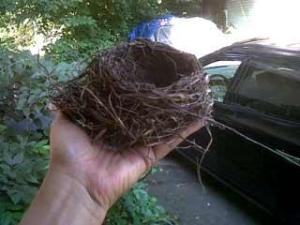 October 8, 2013
0

found this helpful
HI. I accidentally preserved a mini pumpkin by leaving it in a window sill. It dried out and is beautiful and the kids love to shake it to hear it rattle. I have had it three years now. I did not spray it or wipe it with anything. May have been a fluke but it obviously can be done. I live in WV and it is not really warm here compared to a lot of other states. Good luck.