When I was quite young, I had my first daughter. I was only 17, still in high school, and I have to tell you that I was terrified of everything.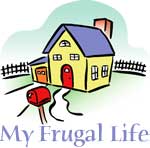 I found that as soon as I got pregnant, I lost most of my friends. I became an expert at frugal living.
One of my friends, did stick around. Her name was Megan. She was the only friend from my high school to come to the baby shower my family held for me. The gift that she brought me was really something. She had brought me a teddy bear that her dad bought for her as a baby. She made it a little t-shirt with "Deana's best friend" screened on it. (Deana is my daughter's name.) The most amazing thing about the gift was how it was wrapped.
She had taken a sheet of newspaper comics and used watercolor paints to paint in the scenes. She used this as gift wrap. I still have a piece of it in my daughters baby book. I was amazed at the time and creativity she put into coming up with a fitting gift.
Somehow I hung in there and finished high school, went on to college, and jobs. My daughter is turning 18 right away. I lost touch with Megan over the years, but I never forgot that gift. She taught me a unique lesson. Things don't have to be expensive to be meaningful. My youngest daughter just turned 11 a little while ago. For her birthday, I made little t-shirts for her 3 favorite bears. I screened the bear's names on the t-shirts. I think it was quite possibly her favorite gift.
By Marcella Languedoc from St. Albert, Alberta, Canada
Do you have a frugal story to share with the ThriftyFun community? Submit your essay here: http://www.thriftyfun.com/post_myfrugallife.ldml