July 15, 2009
0

found this helpful
It isn't as easy as a yes or no answer; a lot depends on how old the dog is, its genetics ( what percentage wolf? what percentage dog?) how much room and time you have for the dog and for its training--and a host of other things.
Try using this as a stepping-off point:
www.nal.usda.gov/.../5n4wille.htm
It gives some general info and a lot of links to specific information on them.
Just as with any other type of dog, it really pays to do a lot of reading and research into temperament and behavior common to the breed before bringing one home so you can decide beforehand whether it's going to work for you ( and the dog) or not.
July 15, 2009
0

found this helpful
I got one as a pup and he's been a great dog. The mother was a wolf... the father must have been a husky mix. lol The picture is of Buddy and we've had him for over 10 years now.
We did have another one a long time ago and he liked to attack the smaller dog. We had to give him back to the pound. Wasn't worth it to us.
So I guess it depends on the temperament of the wolf/dog...?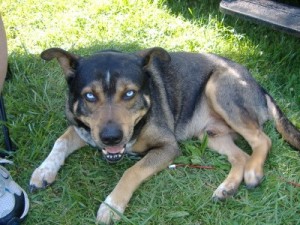 July 16, 2009
0

found this helpful
I've heard of it being done, and of it failing. My vet trainer says it can be done, but is better with no children around. Also, your renters/homeowners insurance may not cover you.
August 12, 2009
0

found this helpful
Wolf hybrids can be great pets. Never ever confuse them with a dog though. No matter how long you have them, or how well behaved they are, or any of the other "how wells" you can come up with, they are still part wolf. And the natural wildness is still in there somewhere. I had a full timber wolf once and he was great. However when my first child was born, he was overly protective of the baby. It got to the point that I had to lock the wolf up in order to care for the baby.
We gave him to a large zoo in the area.
My brother also had one that was 1/2 timber wolf, 1/2 shepherd. She was also a fantastic animal. But my brother always told me that she could not be trusted around small kids (mine were teens at the time). And when her time came to die, the wolf took over in her and she went off to die alone, which is what wolves do.
Personally I don't believe in breeding hybrids of any kind, and I'm very much against breeding wolf/dog hybrids. I feel strongly that wolves belong in the wild, and dogs belong with families.
December 14, 2009
0

found this helpful
I have a 30% white artic/timberwold 70% siberian husky who is the sweetest dog you will ever meet. She is a favorite at the local dog park!
It is hard to train any dog to stay indoors. Mine is an inside dog, and she does really well with listening to me. We just recently moved to a new home and we were keeping my dogs out back (I also have a shepard mix) and the husky kept getting out. I never noticed because she would always go back inside before I got home. The neighbors told me! We just put bricks to where she couldn't get out. I think she always went back because my other dog couldn't get out with her!
My husky is easy to train but stubborn! She only does what she thinks there is a point to! Good Luck!
July 16, 2010
0

found this helpful
I got my timberwolf/husky hybrid when he was about 2 and a half years old. He was already potty trained, well socialized and knows basic commands like sit, stay, down. It took him a few weeks of getting used to us before he had effective recall, but we joked about changing his name to "Shadow" because he's always within a few feet of me. We live in a small apartment right now and he doesn't have any problems with it. There is always someone home 24 hours a day, he is rarely left alone but counter surfs when he is. He is huge but sleeps on our bed every night.
I have a 2 year old who antagonizes him but he's become increasingly patient with him and seems to realize he's the puppy of the pack. As long as he gets time outside and at the dog park, he doesn't pace too much. That comes from his wolfy side. I wouldn't leave my two year old alone with him, but he gives a warning growl and moves away if my son goes too far, and doesn't bite.
The most important thing to remember, whether you have a wolf hybrid or any other dog, is that the training, or lack thereof, is as much a component of their behavior as their breed.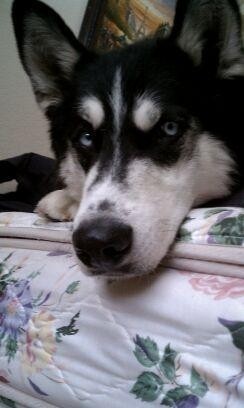 March 16, 2019
0

found this helpful
my wolf dogs are fine. I have 3 wolf dogs and one regular dog. oK...I question if they are a little bit more of piggys...in the house. But I should mention 2 of them are sisters and just hit a year and 1 month.
The other one is 4 months. They are all house broken, the only problems I have with my little boy is that his tummy is really easily upset and gets the shits from time to time....Honestly I think they are pretty good over all.