Save Money on Clothing
Here is a big list of tips for saving money on clothing.
Clothing Care:
Change your clothes when you get home from work. Wear old clothing around the house to save your nice clothing for when you go out or go to work.
Treat stains quickly so they don't set and ruin your clothing. If possible, buy clothing that does not need to be dry cleaned. Dry cleaning is very expensive and can really add to the cost of the piece over time.
Put away seasonal clothing at the end of the season. This will prevent you from wearing it because you forgot to do laundry and keep it nice to last another season. Also, when you get out the box, the clothing you put away can feel fresh and new.
New Clothing:
For new clothing, buy your clothes off season when they are on sale. Stock up on commonly worn items (t-shirts, underwear, jeans) when they are on clearance.
Buy clothing in neutral colors that can be worn in more than one season. Pick classic styles that won't look dated when the new look comes out. Use accessories to give the same outfits a different look.
Shop at discount stores and outlet stores if you have some in your area. Sometimes, they have the exact same clothes that are currently being sold in the major department stores but at a substantial discount.
Buy versatile clothing that can be used in more than one outfit, black slacks can be worn with different jackets and tops or shirts. When buying clothing that you wear a lot, it often pays to buy quality brands that will hold up to frequent wear.
Fancy clothing for evenings out, cocktail parties, proms and even wedding dresses can be found for great prices if you keep your eyes open. Try on styles in the fancy stores and see what styles are becoming, then wait for the items to go on sale or look for them at other places like consignment stores, thrift shops and garage sales.
Don't buy clothing that you love in the wrong size, just because it is a good deal. Sometimes people stock up, in anticipation of losing those 10 pounds, but may never be able to wear them. Treat yourself to a shopping spree after you get in shape.
If you buy something that you aren't sure about when you get it home, take it back! Don't wait to see if it will grow on you, it will sit in the back of your closet.
Sell clothing that you no longer use at a consignment store or a garage sale. Clean out your closet at the end of every season. Use the money you earn to buy new clothing.
Used Clothing:
Thrift Shops in nicer neighborhoods have the nicest used clothing. You can often find designer clothing there. Another good place to find clothing are the thrifty shops that are near big malls. The stores quite often donate unsold clothing there that is brand new, sometimes the tags are even still on the item.
Garage sales are the place to buy clothing for the lowest prices. Church rummage sales and neighborhood garage sales will give you the best selection.
Consignment shops are more and more common. Items are clean and sized. Consignment stores will not accept clothing that is not in good condition or that no longer has value.
If you have friends that are a similar size, you can exchange clothing as you get tired of it.
Read more tips from ThriftyFun users below.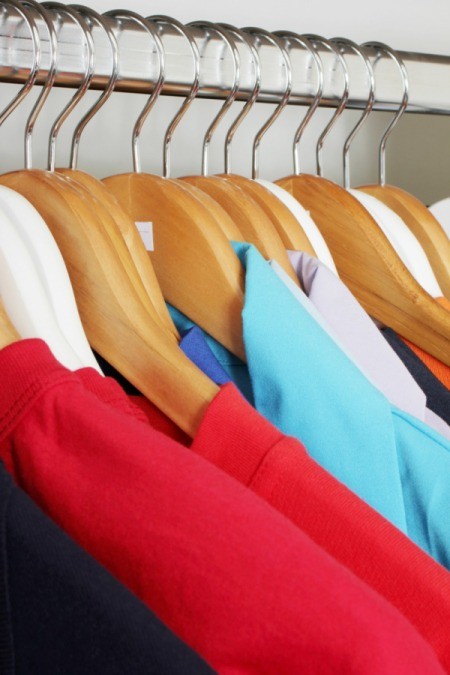 Add your voice! Click below to comment. ThriftyFun is powered by your wisdom!
Add your voice! Click below to comment. ThriftyFun is powered by your wisdom!
Related Content