I am a cancer patient undergoing chemotherapy. I would like to send pretty postcards to my friends for all the wonderful things they have done for me. I can't afford greeting cards plus the stamps, but I could make my own post cards and the stamps are cheaper.
Can someone tell me how to get started, and the criteria that the Post Office uses for making post cards?
I would be very grateful for any advice on how to get this project started because the postcards would be made by me with my own personal words of thanks and appreciation I am sending to each person.
Many thanks to all your readers. I hope to hear from you soon!
Sincerely,
Charline from Midlothian, TX
Answers:
Using Card Fronts
Cut the front off greeting cards you receive and use them as postcards.
By ponyanddogshow (05/16/2005)

By ThriftyFun
Making Postcards
I had a hard time finding postcards to buy in bulk for a reasonable price. I decided to make my own. I save bits of old fabric scraps, wallpaper, scrapbook paper, magazine paper, or those annoying inserts that drop out of magazines. I use the leftover material and paste on 4 x 6 index cards, making post cards for entering sweepstakes and sending thank you notes.
By MaryBeth Isaac (08/22/2005)

By ThriftyFun
Make Your Own Postcards
Following MaryBeth's idea, you could paste photos of the grandchildren, etc. and send with a quick note to the grandparents, family or friends. I saw this idea in a catalog. (08/23/2005)

By HJ
Make Your Own Postcards
I cut up old programs from ball games and make collage note cards for my favorite team! (08/23/2005)

By Diana
Make Your Own Postcards
Double check the usps.com site for dimensions on postcards without having added postage.

I buy a ream of plain white card stock, run it through my printer to print what I want on it, and then cut it in quarters. I also rubber stamp, stencil, collage or whatever on this same size.
This also works nice because the same size, cut in half, fits in small invitation size envelopes for great handmade cards. (08/23/2005)

Make Your Own Postcards
For Thank You cards after my baby shower, I used blank medium sized Index cards and a rubber stamp. I stamped one side with a baby in a buggy and Thank You under it, then flipped it over and took a ruler and drew a line about 2/3 of the way in to separate the message side and the address side, then I flipped it back over and embellished with marker and colored pencils. (02/17/2006)

By cakebaby.
Make Your Own Postcards
Use the fronts of cards previously sent to you. What fun it might be to send a thank you note to a person using the card front they sent you. I use old Christmas cards this way (also use them as gift tags).
(02/17/2006)

By Diana-again
Make Your Own Postcards
Use digital photos printed on card stock and write your message on half of the back, then address to the recipient on the left. This works very well. (02/17/2006)

By shirley
Make Your Own Postcards
You would need to use card stock paper to print on. Standard size for postcards is 6x4, but you can go to www.usps.org to find out specifics. Assuming you have access to a computer, I did a search in Google and found some interesting free printable postcard sites. Some urls I pulled up on Google that you might try include:
http://www.creativity-portal.com/printables/postcard.html OR
http://www.gulf-shores-alabama-condo-rentals.com/printable-stationary.html.
I send "happy mail" to seniors and shut-ins by making my own on my computer, but I use my graphics and pictures of my own and customize mine in a print shop program. I will put a .jpg of a basic template I created that you could use. On the other side, assuming you do not do your own computer graphics, you could write more to your note, or paste a cut-out from a magazine or draw/create something of your own. Best wishes! Hope this helps. If you need to reach me by email, you can reach me at:
themusiclady AT yahoo . com.(remove spaces) (02/17/2006)

By Rita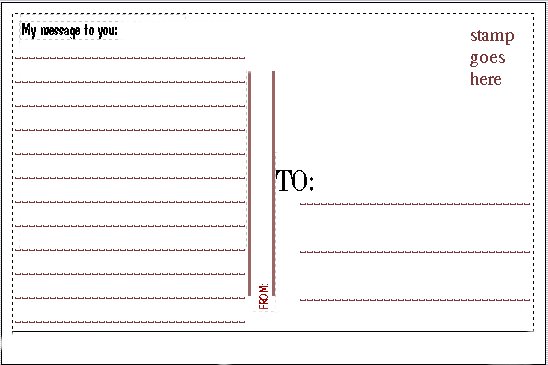 Make Your Own Postcards
I buy double photo prints and use the double for a postcard. My grandchhildren love it when they see themselves from earlier times. (02/17/2006)

By Joyce
Make Your Own Postcards
If there is a way to get your mailing address, I would be willing to send you a lot of photos of beautiful scenery that my mother took but I did not have the heart to throw out. I was hoping that they could be used for something.
(02/17/2006)

By cyndi
Make Your Own Postcards
I made some Valentine post cards for a yahoo exchange I am on. I asked the post office before starting. You can use card stock and make your own. Look on the usps.com site for sizes and weight. I know card stock is heavy enough. I decoupaged different pics and scrapbook paper on mine, then laminated them. Yes, you can laminate them and send through the mail.*** Make sure you add postage after you laminate. That way they can keep your card forever. If you would like to see a pic send me an email. ucmelaffn AT aol dot com
(02/18/2006)

By Michele
Make Your Own Postcards
Charline, I'm a 5 year breast cancer survivor - I was diagnosed at 37. While I was going through chemotherapy, I bought a box of stationary with matching envelopes from Target; did my thank you letters on the computer using Word, and printed them out. Using Word, you can specify the size of the paper you are using so it will print correctly. If you don't have the software to do this, maybe a friend can type and print them out for you. Charline, stay positive - you will be on the other side of this soon. Through that trying time in my life, my focus was on God; he gave me the peace I needed at just the right time. God Bless You! (02/18/2006)

By Marnita
Make Your Own Postcards
There's plenty of online sites where you can write your own heartfelt cards. As long as the recipients have email addresses, they won't cost you a cent. (02/20/2006)

By Cathy
Make Your Own Postcards
Cardstock is great, and please consider the photographs (especially of you with friends/family). These will be great keepsakes for years to come. I found some that my great-grandparents had kept! Not sure of the exact years, but definitely 19th century. It is a memorable inexpensive way to send a lovely note and picture. (03/08/2006)

By Kelly
Make Your Own Postcards
Try cutting up boxes of friendly, fun items like desserts, comfort food and snacks, e.g. Twinkies, into post card size and sending them. If the back side isn't suitable or white, you can cut up a blank sheet of paper and glue it there. Hope this helps. Good luck :) (04/08/2006)

By Champion Cheapskate
Make Your Own Postcards
I have read everyone's ideas and suggestions, and they are all wonderful! I don't know what I could add, except to say that your idea is simply wonderful. I always prefer giving gifts and cards from the heart. This usually means that I took the time to put a little something together that was made with the recipient in mind (something just for them). This way, my hope is that they will find the gift or thank-you token is just for them, something they can and/or will use and maybe even something they can in turn share with others or keep for a treasure, etc.
There is no greater gift than one that keeps on giving after you've given it as intended. One additional note: Please be sure to sign your gifts or tokens, so they will always think of you and your thoughtfulness. May God bless & keep you as you travel your life's journey. (05/03/2007)

By denise
Make Your Own Postcards
Not sure if you're still reading this web site, but I send postcards all the time using a self stick postcard backing that you just peel and stick on the back of a 4 x 6 photo. I just ordered more at Paragongifts.com. They are 9.99 for 48. Love showing off my new grandson. (07/09/2007)

By Deb
Make Your Own Postcards
All you have to do is use the picture you want to send, and write on the back of it as if it were a post card. I've done this many times and it always works. It's easy and you don't have to buy any extra materials! (09/08/2008)

By Meaghan