February 14, 2011
0

found this helpful
Best Answer
I work in the pet food industry and this sounds like an allergy to a food product. Most of the time it is to chicken and most dog foods contain chicken in some form. You need to find a limited ingredient food. Natural Balance, Wellness Simple Food Solutions, Blue Buffalo Basics and California Naturals are some brands that might work. I would do a search on the internet for dog foods with limited ingredients. You can contact me if you need anymore help I will be glad to see what I can do for you.
January 22, 2011
0

found this helpful
Many here have talked about a food change. This works. Here's why:
Most dog foods provide too little protein and too much carbs. Yeast feeds and flourishes on carbs. This starts in the intestines, then usually displays in such things as: itching for no apparent reason, ear infections, licking feet until they are raw and red, itching that vets think are allergies, etc.
Most vets do not know about the nutrition link! They will tell you that they got about 45 minutes of nutrition training during their years in vet school.
Taste of the Wild is a grain-free food of moderate price. Orijen and Wellness Core are pricier. Many dog food companies have jumped on the bandwagon of "grain-free". Look for protein listings of 30-35% preferably. It is not that the dogs are allergic to grains, the problem is that most foods use lots of carbs (grains) and not enough protein. If the huge dog food manufacturers had given a properly balanced diet, it would have adequate protein, and the "grain-free" foods would not be cutting into their market share so much.
Most highly-advertised foods are promoted with lies; the companies have experimented to find out how little protein a dog can live on without dying right away, it seems, then sold us their cheap food!
I have seen amazing problems cleared up within 2 months with adequate protein, and some others that were so bad the owners were considering euthanizing, but 5-6 months later the dogs were fine! Most of these dogs' owners were told by vets that allergy testing should be done. Allergies are usually not the problem, but yeast overgrowth/imbalance looks like an allergy!
Also see dogfoodadvisor.com for more specific information. Very easy-to-use and comprehensive.
February 15, 2011
0

found this helpful
Raw diet best. At least some raw will help his immune system. Build up the immune system. No vaccines--Homeopathic Thuja will help with lessening of bad effects of vaccine. study at vaclib.org or almost any anti vaccine site for dangers. Dr Mercola has info also Health Ranger. Parvo vaccine often gives parvo. Back to food. No grocery store bought Purina crap. Cooking is easy. Less expensive too. Few supplements like flax oil, ester c, Nzymes, Food prep includes sweet potato, kale, ground turkey ( freezer,Louis Rich 1 pound chubs are good) country eggs, brown rice,washed lentils, occasional canned jack mackeral, careful of fish known to have high levels of mercury,lots of ingredients can be duplicated from your specialty foods in a pot on your kitchen stove.
Organic is beautiful but next best is to soak foods in a wash that rids pesticides and poisons. No corn especially. No wheat or soy. I have had good luck with a vet med called Malaseb for inside ears. A good vet will let you buy it without a visit. Otherwise order it online. Have your vet call in prescription Malaseb to costco pharmacy. Best price in town. Hugs, muttmom
February 15, 2011
0

found this helpful
You have a breed that is very well known for allergies, ear infections & such. Chicken, Corn Soy, Wheat, Dairy, Dyes they are all contributers of allergy problems with pets. Try Blue Buffalo's Basics. Blue does not have any of the ingredients above, the Basics has no chicken & dairy very limited ingredient & they also have Wilderness that is 100% grain free.
I have switched my dogs to the Blue Buffalo and it has done a world of good for them. One has skin issues & the other no problems, but before you spend all your money on going through the testing I would buy the food first and see what happens after a month.
February 15, 2011
0

found this helpful
I am starting to cook for my dogs and staying away from glutens like wheat. I also started my Cocker with the worst ear infection, on my own, with Medrol, an anti-itch medication that I had another dog with allergies on. No vet in all ones I have seen about these ear infections has ever suggested putting her on an allergy medication. The one new vet that I saw who put her on predisone did more good than anything, but I was afraid to keep her on it for a long time due to problems it can cause. The Medrol does have some cotizone in it, but one pill a day for 2 weeks has cleared up all the scabs all over her body, so I am really hopeful this is going to help with her ear problem.
I was having good results with the over the counter strenth Vetericyn Wound Spray that I got from Jeffers Vet supply but when I read about a Veterinarian Strength in this, I asked my vet to order some. I have been using it for several weeks and the combination of the Medrol and double strength Veterinarian Strength Vetericyn Would Spray seems to really be helping. I am trying to keep this 10 yr old dog from having a complete ear ablation surgery. I would love some suggestions as to diet. I have had my dogs on the Natural Balance regular formula with real chicken and they just don't seem to be doing any better so will be trying some other foods, probably Blue Buffalo along with cooking for them. I was about to try Blue Buffalo with they had dogs getting sick from the excessive Vitamin D in some batches, so that scared me off, but I have heard it's a good food and when a company has a problem, they are usually very careful to keep it from happening again.
Anyone who can recommend a good recipe for home cooked food would be appreciated. Trying to learn all I can as my 3 boy Cockers are 8 yrs old, and their mother and her sister are 10.5 yrs old, so I know the problems will only get worse with age. I really believe too many antibiotics has helped to make the problem way worse. One of my Cocker boys' ears had nearly closed up, the new vet put him on prednisone every other day and within 2 days his ears had opened back up.
March 17, 2011
0

found this helpful
Dear Jeron:
We own a Wheaten Terrier that is prone to skin allergies and ear infections. The best thing I have found to use for him - and that is non toxic - is children's generic liquid Benadryl. I purchase it cheap at WalMart and use a blue baby ball syringe to give it to him. Just find the correct dosage for his weight, then use a tablespoon to pour out the liquid, use the ball syringe to suck it up, and then squirt it down your dog's throat. During high allergy season, he gets it twice a day. We started doing this when he was almost 2 and had hot spots and black ear infections. The vet wanted to start him on "anti allergy shots". I was like can't I just give him Benadryl (sister is an Rx doc). He was like, you can, but he won't get it down. 8 Years later, we are still using this method and it works! We also use Malaseb shampoo that I buy in the gallon jugs. Works great, but expensive. The most recent - last month - thing we did was to change him to Blue Buffalo. He was having breathing issues and he started smelling really bad even after a bath. Finally bought the BB Lamb & Rice formula and did the whole month switch over a small amount at a time. He is like a NEW dog, plus he is stalking us for the BB food in the kitchen. He loves it!! Best money we have ever spent. He is 10 1/2 and acting like he is 3 years old.
March 19, 2011
0

found this helpful
Thanks for the posting about the Benadryl, we tried the 25 mg capsules (100 for $4 for WalMart brand) years ago but no improvement. There was some improvement with the Medrol prescription pills from the vet but not much improvement now and with small amount of steroids in them, don't want to continue with meds for much longer. I will try the Blue Buffalo, I almost bought some last year when they had the toxic levels of Vitamin D in some of their food. I have had my 6 dogs on Natural Balance for about 18 months and don't see a lot of improvement over those awful grocery store dog foods. I hope to start cooking for them full time, just too easy to go get a scoop of dry food. Picture attached is Bandit, one of my 5 Cocker Spaniels.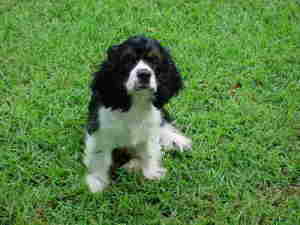 May 14, 2011
0

found this helpful
Hello. I too have a dog that has been suffering from chronic ear infections and skin lesions. I have had him on prednisone twice and both times everything cleared up but came back soon after the medication was stopped.
I began searching for an allergy related cause for his symptoms. I switched dog food several times (grain-free, chicken-free, carb-free, etc.) and until I came across this post online, http://www.itch ked-to-food-2383 I never thought of comparing ingredient lists.
After going over every food my dog has been on recently, I realized (as did the author of the post) that Yeast was the common denominator in all the dog food I had tried.
I have recently switched him to EVO Red Meat Formula which has a VERY short list of natural ingredients as well as NO Yeast and no grains and am already seeing slight improvement in a few days. He wouldn't even be able to walk 10 feet without stopping to scratch something. Now I see him laying quietly in the sun and looking content. I think that article may have just saved my poor dog and my family from any more discomfort.
I hope this info helps someone else. If nothing else compare the ingredients lists and look for common ingredients that may be causing the issue.
August 3, 2011
0

found this helpful
Hello,
I have an 11 year Basset with chronic ear infection for 3 years now. My story is like yours Jeron, zip surgery and all. My dog is really suffering, doesn't want to go out anymore, and doesn't let anyone come near and the smell. Well visitors don't wanna come, even my husband doesn't wanna be around the smell.
Did you find something that works? I'm desperate, even thinking of....please if someone has a real solution. I think I tried all antibiotics, cortizone, all the "cleaners" even septal scrub, homeopathy and all.
Thanks people, Miki
September 29, 2011
1

found this helpful
Try Zymox Otic! Our lab has ear issues and nothing the vet gave helped; 100's of dollars worth of vet and meds. I read a post somewhere to try the Zymox, and ordered it online. It's really cheap :) Not only did it clear her ears up in like two days, they stayed clear for years. I got the one with hydro cortisone in it. Just Google it, you will see many places you can purchase from.