A child would be thrilled to have their own gathering basket or it could be used as a centerpiece after filling with colored eggs and surrounding with Easter grass.
Approximate Time: 1 hour
Supplies:
plastic container
1/4 yard spring fabric not a fat quarter
1/4 yard flannel
stiff cardboard
tacky glue
hot glue
newspaper for pattern
scissors
heavy scissors to cut cardboard
Instructions:
Plug in your glue gun; it will be a few minutes before you are using it. Your flannel is to cushion the eggs in case your little one should drop them into their basket. You could use any fabric you want. You can use a container larger at the top than bottom, but is much easier to cover a straight one.
If your container is not straight up and down; lay your plastic container on your newspaper and trace its shape. Roll your container (keeping the angle bending if the container angles) ending at the point where you started. If your container is straight up and down, you just have to measure its height and distance around. Cut out this pattern and try it on your container to be sure it fits.
Add one half inch on the top and bottom and one end and cut it out of your flannel. Repeat with your spring fabric, adding the one half inch all the way around. Trace the bottom of your container onto your stiff cardboard, cutting just inside the line on both.
Trace this cardboard pattern onto your flannel and your spring fabric. Cut out, leaving a 1/2 inch border and use your tacky glue to assemble one cardboard template on each of your fabrics. Glue one cardboard to the wrong side of each of your fabric pieces with tacky glue.
Take your long flannel piece and lay it inside your container as a liner with the wrong side to the container. With your hot glue, put a line about 2 inches long along the bottom edge where the two ends overlap. Secure one end only then work your way around the bottom of the container, overlapping the ends when you get back around. Now for the top, you have your choice here; leave the extra fabric to hang on to while gluing the top down and trim afterwards or trim it now. I trimmed mine later just to be sure I had it cut right.
Go to the top directly above your starting point and, with your tacky glue, repeat gluing around just under the top lip of your container. Let your tacky glue dry while gluing your flannel/cardboard piece inside your container with hot glue.
Your glue should be dry enough to finish your inside lining. If you didn't trim the extra now is the time.
In the second photo, you will notice I started gluing my outer fabric from the bottom and you can see my glue ready for my turned under edge. You can do this or working from the top down, fold one quarter inch in to the wrong side all down the length of one long side, finger press it down. Lay your container on its side. Starting at one end or where you want the sides of your basket, use your tacky glue and glue this folded edge on the inside of your basket, over the top of your container covering the raw edge of your flannel lining. Continue until you reach the starting point, fold the end under and glue it down.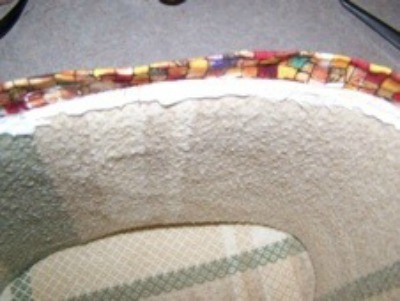 Let this dry while you make your handle. I braided mine out of the same spring fabric, poked holes through my fabric and container, ran the braid through and tied a knot in the ends. You could use a container with a handle and skip this step. Make your handle now, but do not attach it yet.
Back to the outer covering of your basket, bring your fabric down over your container. Make sure your pattern was correct and your fabric will meet covering all of your container. If for some reason it isn't, now is the time to fudge by gluing a scrap on your container where the two don't meet. No one will know when you are done and your little one won't care.
Glue the fabric over the bottom of your container with hot glue or tacky glue and secure your spring-covered cardboard over your raw edges of the bottom with hot glue. Attach your handle and your Easter Egg Gathering Basket is ready for that excited little one. You could let them decorate the outside, maybe cut out the letters of their name and glue them on.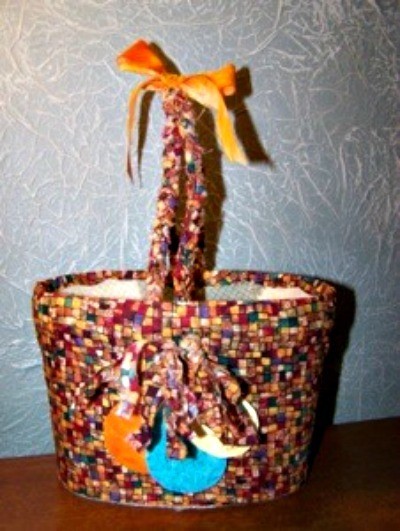 By Ann from Loup City, NE