Recycled Easter Baskets
These are Easter baskets recycled from a dinner out at Kentucky Fried Chicken and from empty containers of products I use on a daily basis. It's a great way to recycle and make a child happy in the process!
Supplies below are for all the baskets. Instead of loading up the land fills with the empty containers, I decided to load them with Easter goodies!
Approximate Time: Approx. 1-2 hours
Supplies:
empty Kleenex box
empty plastic cylinder container
KFC bucket from chicken and lid
KFC box from biscuits
foam, your choice
felt, your choice
paper fasteners
clear packing tape
posterboard
heavy cardboard box
items for decoration
glue and/or double backed tape
pre-cut foam designs
fleece pants
beads
Instructions:
Pretty in Pink Basket:
This basket was made using an empty Kleenex box.
Cut off top.
Cover entire outside with clear tape. This will help make it sturdier.
Use box as template and cut sides and bottom from heavy cardboard.

Glue sides to inside, then bottom. Do the same with foam or felt and glue to outside of box. I use double backed tape on foam with dabs of glue.
Cut handle from posterboard and 2 from foam or felt. Glue paper handle in between and whip stitch all 4 sides.
Poke holes on sides of box at top and in handle. Attach handle by tying bead on inside and out. I also strung some that hang off handle. I added a small teddy bear that I made from felt.

Decorate outside of box to your liking. I used pre cut foam flowers, butterflies, dragonflies, and hearts. I decorated them first by stitching buttons and beads on, then glued to box.
Football Basket:
This one is made from an empty Lysol wipes container.
Pop lid up and cut off extra excess plastic so you have a bigger opening.

Sand off any rough edges. I put strips of double backed tape around canister and covered with felt. I stitched the seam closed.

Glue a felt circle on bottom base.

I cut a football from foam and a slightly larger one from black felt and glued them together. Then I hand stitched features on the ball.
I glued that to the front side and whip stitched around the black felt backing of ball.
I made a goal post and field from foam and drew on yardage lines with black marker. I glued those together and onto the back of canister.
Purple Puff Bucket:
Cut 2 circles from heavy cardboard using bucket base as template.
Cut off one leg of the fleece pants as high to the top as possible and slide clean bucket inside until it fits the snuggest.
Cut off at top and bottom, allowing enough excess at bottom to glue under and enough at top to bring down inside bucket to glue on bottom.

Once cut, glue to both bottoms, inside and out. You do not have to glue the sides on the inner bucket.
Lay cardboard circle on leftover material and cut 2 circles slightly larger. Put glue around edges and cover with material circles.
This bucket has a recessed bottom and your covered circle should fit right in and be flush with bottom. Glue this in.
Put glue inside of bucket and place other circle to cover bottom.
Take the lid to bucket and use as a template. Trace onto heavy cardboard and cut out for lid. Cover with circle of material and glue around edges to secure.
Trace another circle from posterboard and cover with material or cut one from felt. Glue to underside of lid.
Glue an item in center of lid on top to use as a knob. My pj's came with big pom poms on drawstring so I used one of those.
Treasure Chest Basket:
Lift up fold down top on box and cover entire front with clear packing tape. This will aid in making box sturdy.
Use box as template and cut all sides and bottom from heavy cardboard. Put these aside for now.
Cut sides and bottom from foam or felt. I used foam. Glue on to all sides and bottom. I like using double backed tape and a few spots of glue.
Cut strips for side seam buckles and glue on. Poke holes and insert paper fasteners.
Cut handle from posterboard and 2 from felt, making these slighter larger. Glue paper handle in between and whip stitch all 4 sides.
Poke holes through basket and handle. Attach with paper fasteners. Glue cardboard pieces to inside of box and bottom. This will hide the paper fastener prongs.
Make front lock buckle and glue on. I slid a strip of white foam through a key ring and sewed that on to a black backgound. I glued (with double back tape) to front of chest. I also strung beads to handle at side.
By Mary from Palm Coast, FL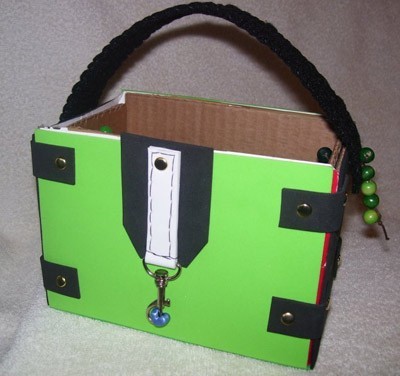 Add your voice! Click below to comment. ThriftyFun is powered by your wisdom!
Advertisement
Published by ThriftyFun.
© 1997-2020 by Cumuli, Inc. All Rights Reserved.
https://www.thriftyfun.com/tf49983998.tip.html