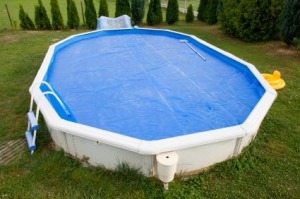 I am writing because I have an above ground pool (18x48) and I put in shock, chlorine and algaecide all at the same time. I have always done this except this time I added the algaecide. Now that I have put the algaecide in with the rest of the stuff my pool is cloudy. 2 days have passed and it's still a little cloudy now, but it has bubbles and foam like water. What is wrong? Please help me.
Thanks,
Karen from Miami, FL
Answers
By Candy (Guest Post)
June 2, 2006
0

found this helpful
When I remove my cover, which is like a netted cover, the water is so bad. Looks like The Black Lagoon. Someone please tell me when I remove the cover just what to do???
By BUNNIEKNIT (Guest Post)
June 2, 2006
0

found this helpful
We had the same problem a few years ago. Our local pool store told us the cloudiness was most likely dead algea. They suggested the water clarifier which bonds small particles together which makes the filter catch them easier, and cleaning the filter frequently until the problem was resolved. Cleared it up for us in a couple of days.
By Jerry (Guest Post)
August 9, 2006
0

found this helpful
It's cloudy due to residue from the algaecide treatment. Check PH & Clorine levels then when okay let pool set for 24-48 hrs without pump circulation.
Then use vacuum to throughly clean floor. You will see clear, beautiful water then!
By Liz (Guest Post)
May 28, 2007
0

found this helpful
We are having a problem with our filter. The white powder (primer) shoots out into the pool from the filter. Can anyone tell me how to correct this?
Thanks
By jeanette (Guest Post)
July 13, 2007
0

found this helpful
We have an above the ground pool with a sand filteration.
The water circulates but is not being pulled through the sand. What causes the water not to be pulled through?
By Jeany from Palmdale,CA singinkids @ netzerodotcom (Guest Post)
May 25, 2008
0

found this helpful
We set up our above ground pool, 12' round about 5000 gallons of water in March of 06. We have had great success in the past.
Last summer I added 3-4 oz. of chlorbrite every day or every other day as measured by my test kit. Once a week I shocked it with 4 oz. of power powder shock. The tabs didn't seem to work so I've always added granules right into the skimmer.
A few weeks ago we got the pool ready and had Leslie's test the water and it was perfect. For the last week or so I keep adding shock or chlorine, probably about 2-3 pounds total. I added 1/2 lb. at a time and the last time was Friday am. The funny thing is the chlorine smell is very strong when near the pool.
The weather has been cool this week (60-70 degrees) with some rain. Ph is fine, alkalinity good, chlorine is not locked up. Had Leslie's run every imaginable test and can't come up with a reason for the lack of chlorine measurement. His in store tests are the same as mine from my test kit. Yesterday I drained about 12 inches of water and filled with fresh water and the test says the same thing.
I hope you can come up with a solution. I have been using Leslie's store for years and the seem to be very knowledgeable. Jacob at the Palmdale store has asked everyone and no one can come up with an answer.
PLEASE HELP,
FRUSTRATED
By key (Guest Post)
July 19, 2008
0

found this helpful
This is my third pool in 4 yrs and I have never had such a problem. First my pool (above ground 18x4) was great for about a month then it stormed (go figure)! I got algae and put some 50% algecide in the pool. It killed the algae but it left my water extremely cloudy. Its been almost 3 weeks and I have used sink and sweep which did gather most of the particles to the bottom and my husband got in the pool and manually vacuumed the bottom with the vacuum hose without the attachment. this has cleared up a great deal but it is still cloudy. you can actually see the white particle floating. I did have a problem with the ph but that is fine now the chlorine is good.
One day the pool with be beautifully clear and have a huge gathering at the bottom of dead algae but once I vacuum it up the clods persist. I have used clarifier, shock(which stained the bottom) and its still cloudy. The pool store isn't going to be much help cause all the levels are within range. What the heck to I do?
My kids are dying to swim and I don't know about you all but spending 350 for this pool then another couple hundred in trying to clear it up is mind boggling and pocket draining. I thought about draining it and starting over but the particles will probably remain. HELP

July 31, 2008
0

found this helpful
(sent in by email)
Having a cloudy water in pool since opening in mid-May. Had algae at first and put 2 bags (1 pound each) shock which killed algae and turned water very milky. Then added clarifier according to directions on bottle for size of pool. Did nothing to clear water. about a month ago changed sand in filter and to no avail. went from running filter about 6 hrs a day to n01 12 hrs a day.
I keep testing and adding chems according to test strips, had water tested and was told my hardness was low. put suggested amount of balance chem in -although I can see a bit clearer water but still quit cloudy. Never before had this problem all year long of swim season. Please help!
Kay S

May 26, 2013
0

found this helpful
Same problem as everyone else. Cloudy water after hundreds of dollars in chemicals and following directions. It is not horribly bad but just a cloudy sheen in the water. Need HELP!
Read More

Answers

We have a 24 foot above ground pool. We have put lots of chemicals in it, but is still very cloudy and milky. All testing is showing up fine. What can we do?
By Karen
Answers

May 29, 2011
0

found this helpful
There are chemicals you can buy that clarify the water, and will clear up the cloudiness. Ask the folks where you buy your pool chemicals and they should be able to help you.

May 31, 2011
0

found this helpful
You should take a sample of the pool water to the pool store where you purchase your chemicals. They can test your water sample, and determine exactly what is needed to correct your pool's water. Most pool dealers are glad to help with correcting the water. They sure don't want a customer to be unhappy and unable to use their pool!

kerly87
Bronze Feedback Medal for All Time! 129 Feedbacks
May 31, 2011
0

found this helpful
Do you have a sand filter or paper filter? Is the filter clean? Do you use chlorine or non chlorine? We use Baquacil and they sell an item called "flocculant" that makes the small particles clump together to be filtered out. It cleared ours up. Ask your dealer.

May 31, 2011
0

found this helpful
We tried everything listed above, but in the end we had to replace our sand filter with a larger one. Ours was about 35 years old and the previous owners had damaged it. The water cleared right up with the proper filter.

May 31, 2011
0

found this helpful
My husband used to build pools and we have a 27 foot above ground, he says try 5 or 6 bags of super shock.

August 4, 2012
0

found this helpful
Hey Karen,
I own a pool company named Acumen Integrated LLC. I reviewed your post and seems to me your pool is giving you quite a headache! I understand chemicalization and balancing can be stressful and expensive. Here are a few suggestions I recommend:
First, assuming you have a sand filter, backwash and rinse. Check the filter pump basket and empty out and debris. Keep an eye on the basket for cracks, and the gasket is in good condition.
Second, test the pool with a strip that tests Hardness, Free and Total Chlorine, Alkalinity, Ph, and Cynuric Acid.
(The comment you made about the pool surface stain could be from the imbalance of your Hardness, which can be aggressive. Stains could be from a low reading. Therefore, you need Calcium Chloride, I suggest a Metal Sequestering Agent.)
Third, I recommend buying Phosfloc. It combines the small particles and dirt and drops everything to the bottom of the surface. You just Vacuum after 24 hours on Waste. Your Ph level must be balanced before using this product.
The steps you took were great, weather and foliage might have added to your pool problems. I hope this post helps! Good Luck!
Gina Groglio
acumenintegrated AT gmail.com

June 25, 2016
0

found this helpful
Have a above ground pool. 3600 gallon of water . Put up couple of months ago. Has small pump that came with it. For a week now we haven't swim on it because of cloudy and milky looking can't see bottom. Tested water from pool store,added chemicals saw no results. Had water retested said ph balance was good. No change what so ever in cloudy water. Help:(
Read More

Answers

I just opened my pool and my swimming pool water is cloudy. It is well water and rain water mixed. How do I get it crystal clear so I can at least see the bottom of the pool?
By Pat
Answers
May 25, 2011
0

found this helpful
Hi Pat. Sounds like you need to balance your water. In order to bring your pool water back into balance, I suggest the following: First you need to correct the alkalinity level by adding alkalinity up according to package instructions. Re-circulate for two to three hours and then re-test the water. Repeat as necessary until the alkalinity level is between 80 and 120 ppm.
Because pH and alkalinity levels are so closely related and directly affect each other, it is recommended that you check your pH level the following day and adjust accordingly with either pH plus or pH minus until the pH level is between 7.2 and 7.6 ppm.
After you balance your pool water you can use a clarifier to help get crystal clear water. Using proper pool maintenance supplies and equipment will help to make pool maintenance much easier.

July 18, 2013
0

found this helpful
Swimming pool water is cloudy. I have done all the chemicals and tried baking soda all to still have cloudy water.
Answer

this Question
My above ground pool is cloudy and I don't know what to do. I used Clorox, borax, and baking soda instead of pool chemicals at the opening of my pool this year. It does not seem to be working for me. Is it safe to swim and should I put the chemicals in now? Please help I'm not sure what to do. Thanks.
By Terri H. from Four Oaks, NC
Read More

Answers