Up the Stairs
This is my 18 month old granddaughter Hannah who has discovered our staircase. "I think I can, I think I can!" She gets to the top of the staircase of 13 stairs. The stairs lead to our bedroom/bath suite which is a converted attic. The staircase goes straight up with little incline! When she got up to the top of the stairs, her grandfather "Bubba" was there to greet her and help her "go down on her bootie" (sitting down) to teach her how to come down the staircase! Really Cute!!
We have a gate that we constructed to deter her from going up the stairs but this time, she got through the open gate!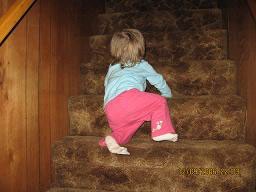 Hey Bubba, Let's Swap Drinks!
She was sitting on the couch with her grandfather, "Bubba", he was holding her cup and she had taken his soda bottle! It was really cute the little smirk on her face. Ha ha!...I got your drink!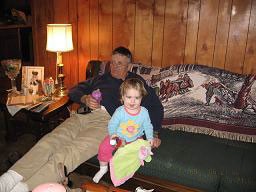 Watching Curious George
She loves to watch Curious George on DVD or on the computer; we give her the DVD jackets for her to pick out. She sits in her baby swing. We put snacks on the tray. She sits very quietly and watches the movies (Einstein, Veggie Tales or Curious George). She has learned to "swing" herself by grabbing the bars on the swing and pushing back!
By WandaJo from Tennessee