Felt pencil holders in the shape of a shoe and a boot.
Approximate Time: An hour or more
Supplies:
2 dark colored pieces of felt, 7x10 inches
2 light colored pieces of felt, 7x10 inches
2 pieces lightweight cardboard, 7x10 inches
2 scraps of ribbon
scissors
tacky glue
hole punch
sewing machine
contrasting thread
Templates:
Click Here to download the Ladies Shoe Template in PDF format.
Click Here to download the Coyboy Boot Template in PDF format.
Instructions:
For Her Shoe: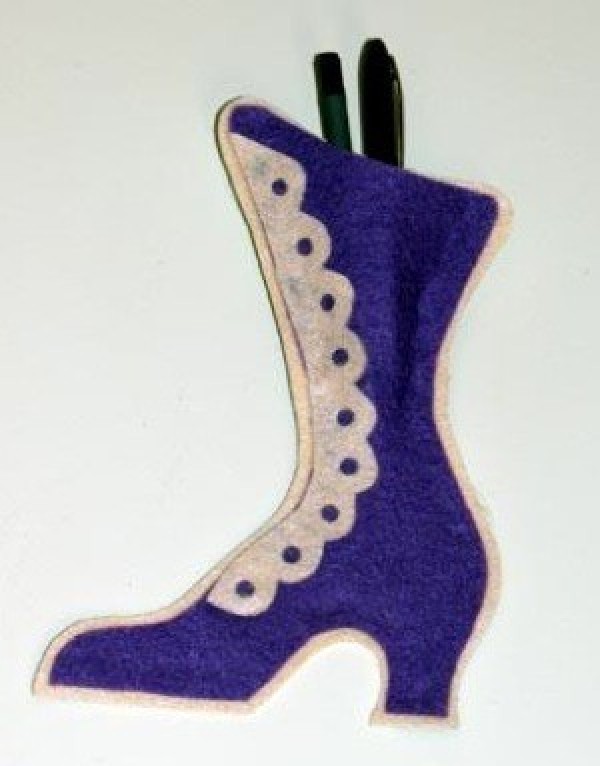 Print out the template as shown. Finished shoe is approximately 9 inches high.
Using template A, cut one shoe out of cardboard for the backing and one out of felt.
Glue felt piece to cardboard. Cut a button flap C from this same colored felt and punch holes in each scallop with a hole punch.
Using template B, cut another shoe that is one quarter inch smaller than the first one from a contrasting piece of felt. On the wrong side of this piece, carefully spread about one half inch of glue all around the edges except across the top. Center carefully over first shoe and press in place.
Glue button flap along front edge of shoe. Let dry thoroughly. Make a ribbon loop on the back for hanging.
For His Cowboy Boot: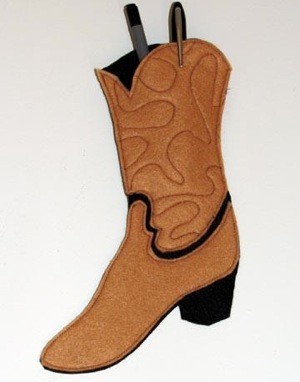 Using template A, cut one piece from cardboard. Cut one piece of A and one piece B from dark felt. Cut B and C pieces from light felt.
Place light B piece over dark piece B and top stitch along top of B piece.
Using a meandering type of pattern, make decorative stitching on top half of boot to resemble leather work.
Sew B and C pieces to A piece, except along top edge. Glue felt boot to cardboard backing.
Make ribbon loop on back for hanging.
By Preserver from Manitoba