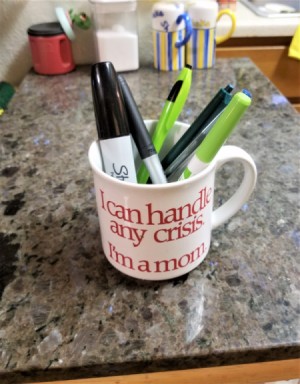 Let's face it. Mugs and cups are sooooooooooooo universal. I have used mugs for pen holders a lot. But then, I wanted to sell them and oops, there are pen marks inside. You either have to bleach them or scrub them. Sometimes they are a lost cause.
Today an idea literally "fell into place". I was reorganizing the pantry and this lid fell into this cup.
I thought, "how cool is this that pens can leak and mark all they want, but the cup will still be nice and safe to drink from".
So here is the tip. Line a cup with a lid that will protect your cup and still come out when you want to use it for drinking, selling, or giving.
N-JOY!