I live in a manufactured (double-wide) home. The walls are vinyl-coated panels with strips of vinyl-coated wood at the meeting of two panels. I'd like to remove the strips, then re-surface and paint the walls. I'm thinking of using a technique which comprises painting the walls, applying crinkled tissue paper to the wet paint, then painting a second coat. I'd apply spackle to the gaps, then apply the tissue. Is this feasible?

Polly
Add your voice! Click below to answer. ThriftyFun is powered by your wisdom!

Ariela
Bronze Feedback Medal for All Time! 107 Feedbacks
February 10, 2009
0

found this helpful
Thats what our mobile home has. The whole house has been painted using semi gloss paint but the strips are still there. You could probably remove them and use drywall putty then sand and repaint. That is if you have the skill. My husband doesn't have that skill. Plus over time the home settles and cracks may show where the strips were making the project all for nothing. When we paint we will leave the strips.

February 12, 2009
1

found this helpful
Polly,
I was in the very same situation last year. I finally decided to try one room first by just painting the entire wall, including the strips. It worked out just fine & didn't look bad at all. I did proceed by painting 5 other rooms the same way. I'm glad I did because I don't think I was up to all the extra effort the removal of the strips, filling, sanding, etc. would have required. Good luck in your project whatever you decide to do!
Leah
By .Lisa (Guest Post)
February 25, 2009
0

found this helpful
Polly,
I did this 2 years ago. Pulled the strips off. Putty, sand, putty, sand.Then prime and paint. It took days and was a nightmare. I don't think you could make it look as smooth as dry wall. But, your idea about the tissue paper is great. It would cover the uneven spots and you could forget about that back breaking labor. Good luck. I am getting ready to do the rest of my house and would love to hear how this worked out for you. Lisa

March 22, 2009
0

found this helpful
I too live in a home with the vinyl wall panels as well. A couple weeks ago I painted my daughter's room. It's very small, maybe a 10 x 10. I wanted to warn you, the panels are so porous I had to use 2 coats and probably should have put on the 3rd. I used a whole gallon of EXPENSIVE paint. If I could turn back time, I would have used the Kilz primer first!
Our den, my husband put up a paintable stucco wall paper. The edges where the paper met, I used a tiny container of Red Devil joint compound. I applied it thin as possible using a plastic picnic knife. The teeth scratched the compound and when it dried it blended completely with the "stucco" hodge podge pattern. After painting, it's beautiful!
Add your voice! Click below to answer. ThriftyFun is powered by your wisdom!

I just moved into a mobile home and I would like to know if it is possible to paint over the vinyl walls. I was thinking of doing the sponge painting on some of the walls. Has anyone done this? Also can I repaint the cabinets?
By lavendergirl
Answers

May 24, 2013
0

found this helpful
Yes! Yes! This can be done and looks beautiful. Throughly clean the vinyl. Invest in a Good adhesive primer. I used the Sherwin Williams Adheision brand, however talk with your local paint store specialist and see what they recommend. I would not use a common latex primer (kilz) no matter what is suggested..lol. It will tend to not cover as uniformly and not adhere to the vinyl as well. Otherwise Kilz is a good product.
I also took down the mobile-home-wall-strips and used a whipped putty to fill the seams and any gaps. Plus you don't have to sand it, just use a wet rag and wipe it smooth.

Gloria Z
Bronze Feedback Medal for All Time! 147 Feedbacks
May 24, 2013
0

found this helpful
Call the manufacturer of the mobile home or go to your local Benjamin Moore paint store or web site for help. Good luck.

May 24, 2013
0

found this helpful
Krylon makes a paint for plastic, I would try that for your sponging.

June 3, 2013
0

found this helpful
I used regular latex paint from Wal Mart; but did make sure to use a good primer first (Kilz). The paint has held up very well for 10 years, some flat, some gloss, some rolled on, some sponged on (using wadded up Wal Mart sacks instead of a sponge).
Answer

this Question
I have vinyl coated drywall panels on my walls. I would like to know if they can be painted. What kind of paint would I need to buy and do I have to primer them first? My home is a double wide and the walls have the vinyl coated drywall panels with board strips between them. I would also like to know how to remove them boards and how to make them look like regular dry wall when I paint them.
Is there something I could get to put on the wall between the panels so I don't have them board strips on the wall? I would like to make it smooth like drywall looks.
Thanks,
Dorothy from Pennsylvania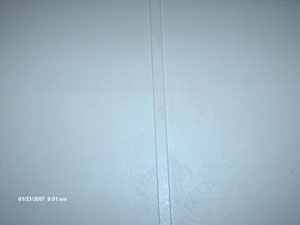 Answers:
Painting Vinyl Wall Panels
Hi, I have a single wide mobile home and we have painted our walls. We took the wooden strips off and filled in the gaps with joint compound. Let it dry completely and then sand, you might have to refill again and sand. Then we primered over all of that, you will need a really good primer. We used OOPS from Lowe's. Then paint over as a normal wall. Good luck. (01/24/2007)

By Michele
Painting Vinyl Wall Panels
Dorothy, I just painted my bedroom; the walls were wood paneling, but the ceiling is some sort of vinyl covered squares. I used a primer from Ace and then regular ceiling paint. It applied very well and looks really good. I will have to see how durable it is in the long run. If you asked at a larger home improvement center I think that they would give you some helpful information because I am sure that lots of people have the same type of walls that you do and have tried to redecorate them too. Good luck to you! Paula (01/24/2007)
By Paula
Painting Vinyl Wall Panels
I had a mobile home with the same type walls. We took off the strips and filled them as you would wall board. Since mobile homes tend to move a bit after a while, the joints began to show cracks. Solved this by buying (ON SALE) a paintable wall paper with thin up and down pattern. Looked very nice and no cracks. After a time we painted and it looked even nicer. The paper is still on the walls and even after a few paintings, looks nice. (01/24/2007)

By lavonneann