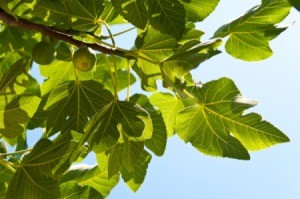 I have a fig tree in my yard. It has many figs on it, however, summer is almost over and none of the figs have ripened. They are still medium-sized and hard, they would probably need to grow a bit larger, then ripen.
With the end of summer, the cooler weather will be coming in and I'm afraid I will not eat one fig at all! Any suggestions? Also, what do I do with the fig tree after the summer? Do I cut it all the way down and wrap it, or do I just prune it to, say, five feet tall, then wrap it to keep it warm? Thank you!
Hardiness Zone: 7a
Kelly from Long Island, New York
Answers
By Lynda (Guest Post)
September 7, 2008
0

found this helpful
Best Answer
My mother's fig tree was loaded each year AFTER we began to add used coffee grounds and chopped banana peelings to the soil in the spring, and compost all year long for overall health.
(There are several varieties of Fig trees/bushes. Go to the Library and look through gardening encyclopedias to view what sort you may have and what sort does best for your area/zone.)
In the Fall, we pruned many small branches out, leaving it thin enough for birds to fly through. It always lost all leaves, went dormant in winter in Texas, but returned robust in Spring.
It requires a lot of water and never got many pests, except squirrels, and a tiny fly that would sometimes bore the fruit. It got morning and noon sun, but shade in the late afternoon.
It appeared that the secret to having ripe fruit was to keep the numbers of branches to a minimum, and to keep evenly watered, not picking the fruit until it LOOKED and tasted ripe. We never pruned anytime other than Fall.

susan
Silver Feedback Medal for All Time! 472 Feedbacks
August 31, 2008
0

found this helpful
Just want to say that I'm in Arkansas, and my figs are not ripe yet either. Last year, we ate them by now. My tomatoes are 1-1 1/2 months behind their usual ripening schedule too.
My corn matured early and my green peppers set earlier than usual. Everything seems out of sorts this year.
By floppy4me (Guest Post)
September 1, 2008
0

found this helpful
I live in Tennessee about two miles from the Alabama border. My figs are maturing slowly as well. My tomatoes however took off so fast that my freezer and cabinets are full of canned and frozen tomato products.
By JOANNE (Guest Post)
September 6, 2008
0

found this helpful
Hi Kelly,
i am also a Long Islander and our fig tree is huge this year and loaded with medium sized figs that are not ripening. I am also looking for a reason why this happened. I feel like buying figs in the grocery store and pretending they came off my tree. I do know some people who are picking ripe fruit though.
Joanne
Read More

Answers