Barli is 7 years old and a half Lab, half St Bernard. I named Barli, the German word for Little Bear, after the brown goat in the book Heidi. I found out later that one of my German friends, big old Teddy Bear, himself, had that as his nickname.
Barli is a camping fool! Just bring out the ice chest, and watch him head for Helen, the Holladay Rambler Motorhome! If he ever gets in, he won't come out till we leave, unless we coax him with food. hahaha That is his other fun thing to do -- EAT!
We were camping in this photo, in Maggie Valley, NC. Whenever we would start to eat at our picnic table, Barli took his spot, so we just started feeding him 'people food' on his own paper plate. When we go camping, he won't eat doggie food unless it comes from Our Hand! He began that as a pup and still does the same. He is a hand-fed camping dog.
By Jacketbacker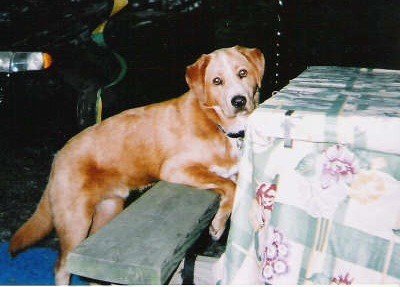 Add your voice! Click below to comment. ThriftyFun is powered by your wisdom!

vicki hood
Bronze Feedback Medal for All Time! 102 Feedbacks
August 4, 2010
0

found this helpful
Love you for loving Barli so. Love the camping story. Love that beautiful hunk of a pal. Barli belongs on a magazine cover. Love the name. Could I use it on my little dog that is coming in?
She is a pom mix-blind-and looks like a little bear. Because she is blind, I wanted a beautiful, descriptive name for her.

(Guest)
Gold Post Medal for All Time! 846 Posts
August 5, 2010
0

found this helpful
What a sweet, handsome boy with personality and I love his name!
August 6, 2010
0

found this helpful
Muttmom, feel free to name your little pom mix Barli! I like that idea a lot.
And thank you both for the feedback. We do love and spoil rotten our big, sweet dog. He is so gentle, he actually licked a stray kitty this past week, and has been known to lick a pet Guinea Pig my Grands had at our house. He never meets a stranger, but does not really like teens with their baggy pants and hats on sideways, growls and shows teeth when they arrive, feels need of protecting my grands, maybe?
lol. He is a great doorbell for us, and always barks when anyone comes up, but when we say it is ok, he goes right into Pet Me Mode. I doubt with a 100 lb lap dog greeting folks at the door, if we will have many intruders.
Add your voice! Click below to comment. ThriftyFun is powered by your wisdom!
Barli is a 7 1/2 year old St. Bernard and Lab. We got Barli as a pup from our son, whose black Lab visited our neighbor's St Bernard and produced 10 puppies.
We have had him now for 7 1/2 years, and we love him more every day. Barli is an avid eater! He thinks he is a person and sits at the picnic table with us whenever we go camping. He has done this since he was young. He loves to ride with us anywhere, in our car, motor home, or golf cart.
Our Big Dog Barli is the world's biggest baby. Even though he has molars over 1 inch wide, he licks most all of his food, like a baby. He also licks the 'hound' out of us, and will lick cats, other dogs, ahd has even licked a guinea pig that my Grand had.
He never meets anyone or anything he doesn't like, unless you are wearing your hat. For some reason, he is not fond of people wearing bill caps! But as soon as he figures out who you are, the cap is no problem either.
By Jacketbacker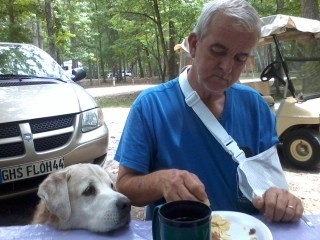 Read More

Comments
Barli is a 7 1/2 year old Lab/St. Bernard mix. We got Barli as a wee puppy, from our son whose Lab visited our neighbor's St. Bernard, and had 10 adorable, BIG pups. Barli is a laid back kind of dog, and loves to sleep, feet up, spread out on our sofa.
Barli is also loves going camping with us and riding almost anywhere, anytime, in our golf cart. He loves people and makes pet stops quite often when at a campground. We recently visited Sadlers Creek on Lake Hartwell, where this photo was taken. Barli was chilling under our awning.
By Jacketbacker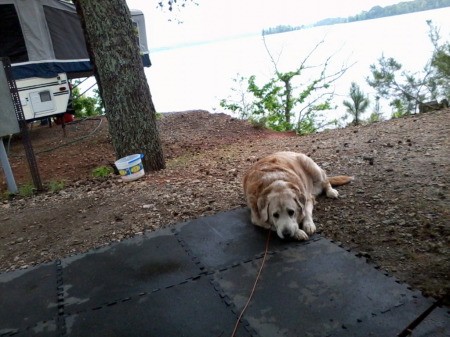 Read More

Comments