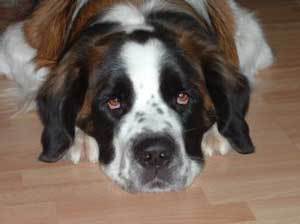 Breed Description:
The Saint Bernard is an enormous, big-boned breed with imposing proportions and a tranquil temperament. These heroic dogs are famous for their ability to sense an impending storm or avalanche and are widely recognized for their work in mountain rescue. This cheerful, loyal dog is patient with children and adapts well to life as a family pet when provided enough space to live comfortably.
Group: Working group
Purpose of Breed: Mountain search and rescue
Country of Origin: Switzerland.
Average Size: Saint Bernard's range from 24 inches to 30 inches and from 110 to 200 pounds depending on sex.
Color(s): Typically are brown and white, red and white, or brindle and white.
Coat Type: The Saint Bernard has a very thick dense coat that comes in either a longhaired or shorthaired variety.
Grooming: Both coat varieties shed out twice a year (spring and fall). The long-haired coat variety requires more grooming to maintain its coat. This breed requires standard care for eyes, ears, pads and nails and is known for drooling, depending on the dogs excitement level, weather and the shape of the individual dog's jowls.
Exercise Needs: Saint Bernards are inactive indoors, but still require a lot of physical space due to their imposing size. A house with a fenced yard is ideal and a moderate amount of daily exercise is sufficient.
Temperament: The Saint Bernard is a gentle and friendly dog that is happiest when in the company of his family. This dog breed can make a good family pet, but it has to be obedience trained early because of its large size. Known for their patience with children, they seem somewhat naturally careful around them. The Saint Bernard is considered steady and even tempered, but will bark at intruders. If they persist, however, he is more likely to welcome them as a trusted friend.
Common Ailments: The Saint Bernard is susceptible to heart problems, entropion, skin problems, and hip dysplasia.
Life Expectancy: Averages 8-10 years
Trivia: The Saint Bernard is a basically placid dog and does not require any more food to maintain itself than other large dog breeds. They generally require less food per pound of body weight than many smaller, more active breeds.
More Information: St. Bernard Club of America, Inc.