April 1, 2008
0

found this helpful
I'm so sorry. There must be such a void in your home and your life. What a sweet face. xoxo
April 1, 2008
0

found this helpful
I am so sorry for your loss. We love our pets as our babies, my dachshund, Cherry, would have helped Kasha catch lizards. She is a lizard hunter, I thought like no other. I wonder if it is their breed. She too was rescued from the humane society in TX. She's my precious.
My heart goes out to you and I will keep you in my prayers for strength to cope.
It is my belief that our pets will be waiting for us in Heaven. I can't imagine being totally happy and at peace without each and every pet I've loved, so if you believe as I do, you will meet again.
God Bless You,
Tina
By Linda Andrie (Guest Post)
April 1, 2008
0

found this helpful
I am so sorry for your loss. Thank you for sharing your joyful memories of Kasha. May those happy memories help you through the rough times. My sister has a long hair mini dachshund named Charlie. I am babysitting him now.
I will pray for you. What a precious sweetie your Kasha was.
May God comfort you.
Linda
April 1, 2008
0

found this helpful
Kasha, Thank you for being such a wonderful pet. Our furry friends live on in our hearts forever and Kasha will never be forgotten.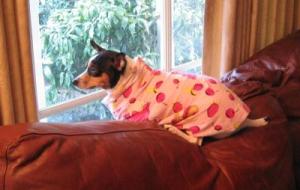 By jodi (Guest Post)
April 1, 2008
0

found this helpful
I too want to tell you how sorry I am to hear of your loss. We also have 2 little dachshunds which we found. One we could not find the owner an really think she was dumped. the other a man was driving down the road in front of my granddaughter, stopped an threw the little dog out of the car. My granddaughter hurried an got it into her car..she was only 4-6 weeks old.
Of course we took her in an now both little dachshunds are like shadows to each other.
Even the cat has taken a liking to her. She (Misti) makes a habit to clean both the dog (Mishka II) an Kitty Kat 2 face. She sure has put a little life into Mishka's life as she is so full of puppy life. Again we are so sorry for your loss. You are in our prayers.
April 1, 2008
0

found this helpful
Godspeed, Kasha. We should all be so well-loved and taken care of.
April 1, 2008
0

found this helpful
Rest In Peace, Kasha.
RAINBOW BRIDGE
(Author Unknown)
Just this side of heaven is a place called Rainbow Bridge.
When an animal dies that has been especially close to
someone here, that pet goes to Rainbow Bridge. There are
meadows and hills for all of our special friends so they can
run and play together. There is plenty of food and water and
sunshine, and our friends are warm and comfortable.
All the animals who have been ill and old are restored to
health and vigor; those who were hurt or maimed are made
whole and strong again, just as we remember them in our
dreams of days and times gone by. The animals are happy and
content, except for one small thing, they each miss someone
very special to them, who had to be left behind. They all run
and play together, but the day comes when one suddenly stops
and looks into the distance. His/her bright eyes are intent;
his/her eager body begins to quiver. Suddenly s/he begins to
run from the group, flying over the green grass, his/her legs
carrying him/her faster and faster.
You have been spotted, and when you and your special friend
meet, you cling together in joyous reunion, never to be parted
again. The happy kisses rain upon your face, your hands again
caress the beloved head, and you look once more into the trusting
eyes of your pet, so long gone form your life but never absent
from your heart.
Then together you and your special pet cross the Rainbow Bridge..
April 1, 2008
0

found this helpful
You sound like a wonderful "person" for Kasha. As a dog owner of 3 dogs, all from the Humane Society, I empathize with your feelings. I hope you rescue another dog when you are ready. Dogs are truly a blessing in our lives.
April 1, 2008
0

found this helpful
My heart goes out to you on the loss of your beloved furry friend, Kasha. I know how hard it is to lose a wonderful pet, you'll never ever forget him! I hope in time you can share your life and the love you gave Kasha with another animal.
Grandma Jan & Kato
By jm (Guest Post)
April 1, 2008
0

found this helpful
I'm sorry for your loss. I know how hard it is to lose a pet. They are like our children and it leaves such a hole in your life when they are gone. Enjoy your memories of Kasha and hopefully you'll have another baby to add more joy to your life.
April 1, 2008
0

found this helpful
What a sweet little baby. I know you must miss him terribly. It sounds like you gave him a wonderful life, and like he made yours equally wonderful.
:) Barbara
By Sarah (Guest Post)
April 2, 2008
0

found this helpful
So sorry, hope after you have healed you can adopt another much needed sweetheart waiting for your loving home.
"The dog is a gentleman; I hope to go to his heaven, not man''s."
By: Mark Twain, letter to W.D. Howells, 2 April 1899
If there are no dogs in Heaven, then when I die I want to go where they went.
-Will Rogers
April 20, 2008
0

found this helpful
I'm so very sorry for your loss. He was a handsome guy!
By janet from toronto, ontario. (Guest Post)
April 21, 2008
0

found this helpful
Sorry to hear about your beloved loss. Kasha brought joy so good memories for you and your family.
Regards from Canada
By Ann (Guest Post)
October 29, 2008
0

found this helpful
Kasha was a gorgeous little dachie. It hurts so much to lose our little friends, my boy dachies died aged 11 and 12 years old. Our lives have been made all the richer for having had a loving, courageous and faithful little soul as a companion.
Much Love and bless you xx
Picture of the public statue of Fan-fan