By Milenda (Guest Post)
January 15, 2008
0

found this helpful
Please email me if you would like a copy of mine to start out with. I did mine with excel so easier to move things around. You would need to change the food stuff to things YOU use in your household but it is very nice to use. (because it was set up for my pda, you can print it mini and staple it for a paper copy. It then is only about 4" but you can use larger sizes if you can't see that small easily.
Milendasmail AT yahoo.com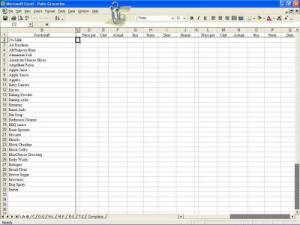 susan
Silver Feedback Medal for All Time! 472 Feedbacks
January 15, 2008
0

found this helpful
I use a small 3-ring binder, so I can add/remove pages as needed. I also take quart size ziplock bags, punch holes in them, and put them in the binder for coupons, business cards, notes, etc. I attach a pencil to the binder, so I always have one with me.
In the front I keep my running lists of things I need from specific stores: WalMarts, Sams, drug store, yard sales, Big Lots, grocery stores, etc. This way, whenever I go to Wal-Mart or where ever, I know what I need to buy. Before I go to that store, I put my coupons for those things in the plastic bag. I also keep lists if any one has allergies, is on medication, etc, and is on a specific diet.
In the back, I keep a notepad in case I need to jot something down (sizes, prices, addresses, phone numbers, etc). I also have a few back pages with things I might need: furnace filter sizes, window sizes, gifts I need to look for, clothing sizes for yardsales, etc.
The middle is the actual pricebook. At the top corner of each page I list what is on that page (peanut butter, laundry detergent, bread, cat food, and so on). I keep them in alphabetical order so they're easy to find. On each line, I list first the store name, then the brand, the price/size (1.19/14 oz), and lastly the cost per pound --1.16 lb (You usually have to figure this out, but this makes it easy to compare products since sizes and prices vary). Then the second line is either another brand at the same store, or the same product at another store, and so on. Anyway, that one page will be for peanut butter (or whatever). I always write info in pencil so it can be updated whenever prices change. I like to keep prices at different stores, since it allows me to know the best prices at each store, and where I can beat that price if there's a great sale.
I grab this book before I leave to go anywhere, since you never know where you'll find what you need.