Like most things, canoes are perfectly safe if used in the manner in which they were designed. In actual fact, you have to work pretty hard to flip a canoe over because of its relatively flat bottom. Granted, if you stand up in a canoe, it is likely to turn over but then again, you're kind of asking for trouble if you do something like that.
The key thing to bear in mind when you are in a canoe is to keep your centre of gravity low as this will keep everything stable. Also, remember to balance along the length of the canoe. If someone leans over the side, the other person should counterbalance a little by leaning slightly to the other side.
Getting in the Canoe from a Dock
When getting into the canoe, the most effective procedure is to have the heaviest person get in the back seat and then the second, lighter person can get in around the middle. The middle is the widest part of the canoe and therefore the most stable. Once the second person is in the canoe, they can then grab hold of the gunwales (sides) and creep up to the bow seat. Laying your paddle across the gunwales also helps you maintain balance while creeping up and eliminates the need to reach back for it after you are seated.
If you are taking small children with you, they should get in after the bow and stern seats are filled. Children should sit on the floor of the canoe rather than on the crossbars to maximise stability.
In the Canoe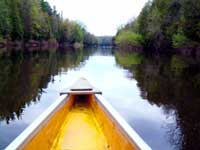 Once everyone is in place, the main paddlers should move forward in their seats so that their knees are on the bottom of the boat and their backside is perched on the edge of the seat. This puts your centre of gravity lower and will allow you to paddle more powerfully and efficiently with the least amount of sideways motion. Novice canoeists may find that their lifejacket or a soft coat will help to minimise knee strain.
The weather can change very quickly if you are out on a big lake and you may encounter waves even if the water was calm on the outward journey. Also, if you are sharing the lake with motorised watercraft, it is likely that you will have to cross a wake. Rule number one is DO NOT PANIC. Simply turn the canoe so you meet the waves straight on and plow through. Unless they are very large, facing the waves side-on will likely not tip your canoe but it will make things feel far less stable than if you meet them bow first.
Getting Out of the Canoe
Disembarking should be done in the reverse order.