I am trying to find a place to buy sweet gum balls as I have read where you can smash them and put around hostas to keep grubs from climbing onto your plants.
Hardiness Zone: 5a
Sue from Cedar Rapids, IA
Answers: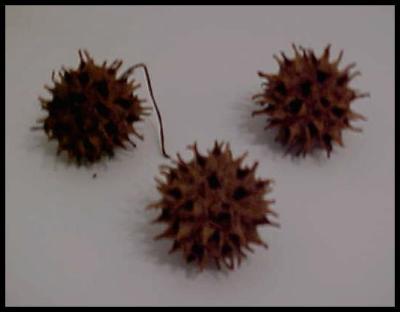 Where can I buy sweet gum balls?
If you can't get any sweet gum balls I just read on a hosta site that you can ring your hosta with regular old children's play sand like you would put in a sandbox and the slugs won't cross it. Just put a very thin layer around the base of the plant. I have not tried it yet so I can't comment firsthand, but I have a bucket of sand ready to go out on mine as the slugs are having hosta picnics at my house.
Good luck!
Susan in Omaha (05/23/2007)

Where can I buy sweet gum balls?
There are several things you can use to control pests with hostas. You can use slug pellets around them, they don't like them. Moth balls will work too. The best method is to take a bucket of warm salt water at dusk and pick up the slugs and put them in the water and it kills them. You can also use upturned half grapefruit shells and crushed eggshells but they make the garden look not very nice.
Recently a biological control for slugs has become available. A nematode, it is specific to slugs and will do no harm at all to snails. The nematode is mixed with water and applied to the ground around hostas through a watering can. The nematode then paralyzes any slugs that come in contact with it, multiplying in the slug's body and reinfecting any slugs that come to eat the dead slug. (05/23/2007)
By Mythi
This is where to get sweetgum balls....
Check this site out:
http://treedroppings.com/sweetgum.php (09/18/2007)

By Ryan