November 28, 2010
0

found this helpful
I would melt the caramels in the microwave until soft, then spread them on the pretzels, and top with another. Then I would just dip them in melted chocolate wafers, set on foil and put sprinkles on; then let them set. You could probably even just put a half of a caramel on one pretzel, then bake them at about 250 until the caramels start to "sag", then pull the tray out and quickly cover with another pretzel.
This sounds like a nice combination!
November 28, 2010
0

found this helpful
Sounds good and quite easy, especially putting a caramel on a the pretzel and melting in the oven.
December 3, 2010
0

found this helpful
Sounds a bit like the pretzel squares with melted Rollo candies we had around Hallowe'en, addictive!
December 3, 2010
0

found this helpful
I have a easy recipe that is good, use a small pretzel twist, put a hershey kiss or hug on it and fill a cookie sheet with them.put in oven until they are soft and then press a red or green M"M on them and let harden and you have a yummy treat. Here are some of the treats I made last Christmas.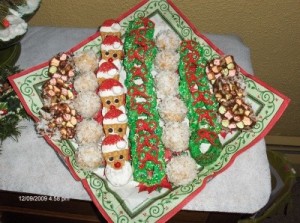 December 7, 2010
0

found this helpful
The easiest way to make them is to put the small pretzels on a large baking sheet and top each one with a Rollo caramel. Bake at 300 degrees for about 10 minutes. Remove from oven and squash another pretzel on top of the Rollo so the chocolate and caramel ooze through the top pretzel.
When they are cool you can remove them from the baking sheet and dip them in warmed frosting or spread some frosting over the tops and decorate. They are great with just the Rollo and pretzel.
December 10, 2010
0

found this helpful
drmeidl, you should place your picture in the Thriftyfun contest. I love the idea of using cookies like Nutty Buddies for Santas. Pretty presentation.