By LaVa (Guest Post)
June 6, 2007
0

found this helpful
I've never use a lid organizer, but I will share what I do with the lids to all my pots and pans. My oven has a drawer on the bottom. It's not a broiler, it's just a storage drawer. All pot lids go in that drawer, that way I don't have to try to stack them with the pots or with each other. They're easy to find with minimal hassle. I do a similar thing for lids to plastic containers. Keep them in a cabinet drawer relatively close to the cabinet where I store the bottoms.

June 7, 2007
0

found this helpful
I organize mine in an old dish drainer.

Ariela
Bronze Feedback Medal for All Time! 107 Feedbacks
June 7, 2007
0

found this helpful
I had alot of odds and ends pots, pans and lids. I thought I couldnt do without all of them. When we moved I got rid of alot of them along with many kitchen gagets that was collected through out the years. I went through them all and only kept a small amount.
I dont know why I kept more then we really needed all those years. But I will say the local thrift shop appricated my donations. Also.. there are alot less dishs to wash.. thats the best part lol :)

June 7, 2007
0

found this helpful
I use an ordinary dish pan to store all my lids in after having the same problem. It has worked well for many years now. I use a standing pan file for my cookie sheets, muffin pans, and other flat things.

June 7, 2007
0

found this helpful
I do same thing as LaVa does! Use the drawer under
oven, my plastic lids I put in plastic open boxes
and pull out to search.

Holly
Silver Post Medal for All Time! 364 Posts
June 9, 2007
0

found this helpful
I keep mine in a two tiered file cabinet wire basket from the Container Store. Looks like a file cabinet but with wire sides. I have the largest drawers on the top and the bottom. All lids, including my 6 qt. pressure cooker, fit nicely in there.
I have included a picture from the Container Store web site. It shows 3 drawers in the unit. www.containerstore.com
We've had this since approx. 1985 and it's still functioning well. It's placed inside a cabinet.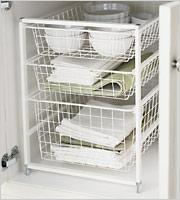 Marty Dick
Bronze Post Medal for All Time! 169 Posts
August 19, 2007
0

found this helpful
I am by nature a very stingy (frugal if you will) person who would never spend a dime unless absolutely necessary. I keep lids, cookie sheets, a cutting board and a microwave bacon rack in an ancient dish drainer which is no longer needed for dishes.
Silver racks from old dishwashers make good storage in the garage for small garden implements.