Ruby Charlotte Germann is 2 years 7 months and 14 days today. Ruby is a beautiful, delicate, mostly black with flecks of brown, and a white star on her breast- Affenspinscher.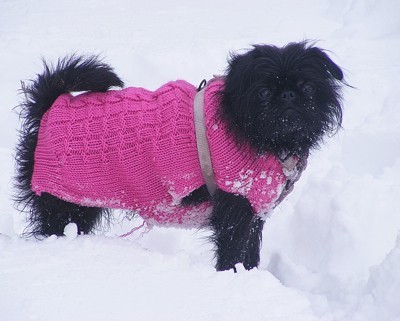 Through what we found to be a disreputable breeder, thank goodness we bought the little angel, October 19th 2008, exactly Everything and Anything as long as she's with me. But her very most favorite "Super-Cala-Fragalistic-Expialidocious" thing to do is to play in the snow.
My Ruby was the most funny looking 4 month old puppy I'd ever seen. The breeder had no intention of showing her to us, but this little cutie snuck out of the side room, laid her head on my sandal-ed feet and licked the tops of my toes.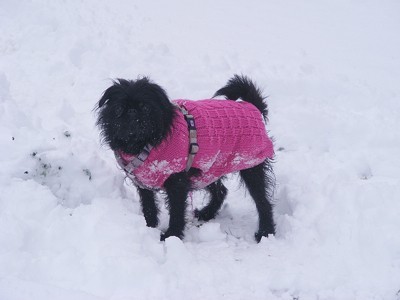 My husband had told me that dogs pick their owners, but until that exact moment I wasn't sure what he meant. Ruby is also the smartest puppy ever. I know I'm a bit biased, but she truly understands what I tell her, what I need from her.
Ruby can show me every single time; by a look, tilt of her head, the silly one tooth sticking out grin she gets and a wag of her sometimes curled tail, exactly what she wants and needs. She just is a very intelligent pup.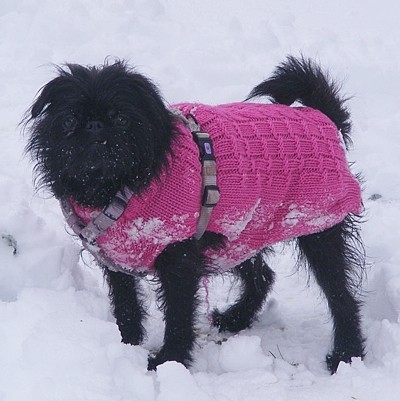 Ruby loves to wear new clothes, sweaters, t-shirts, her angel wings from Halloween, even trying on and buying a new harness makes her prance around as if she's the most beautiful pup in the whole wide world. Or as my little niece says "Ruby knows she's All That and A Bag of Chips".
She sleeps or plays on my computer desk, and has been since the first day together, when I'm on the computer. Because of Ruby, there are two fluffy pillows on our computer desk.
My Husband only got Ruby for me because I am disabled and needed to try to walk more, and after a 2 week visit to my best friend in Lampasas, TX, where I was able to walk my friend's very large Chihuahua, I was walking better without using a cane. Even though he didn't want to, he fell in love with her too, and from the first night she's been sleeping in the bed with us, right up against him.
I don't know anymore if I could ever live without this little monkey/bear faced little angel in my life anymore. I almost never leave her at home, I just can't. Her tail curls up if she's having fun, happy or content. If it drops straight, it means she's either scared or nervous about something. She's really not like a dog at all, most of the time she's like our little furry baby.
By Anne