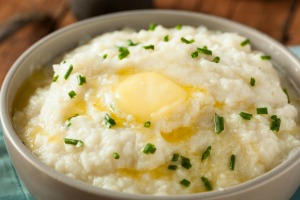 I had Mashed Cauliflower at Ruby Tuesday's and loved them. If any one knows how to make them, I would love to have them for Easter.

Thank you,
Joanne Weaver from Kingston, PA
Answers

April 13, 2006
0

found this helpful
Best Answer
I have made this recipe but used the frozen cauliflower and it came out delicious. My neighbor used fresh cauliflower and it took way too long and the taste was not as good. Save yourself some time an opt for frozen. Happy Eating!
By Michele (Guest Post)
April 14, 2006
0

found this helpful
Best Answer
When we were on the Atkins diet, we mashed the cauliflower and made it just like you would mashed potatoes. Just use less of what you normally would or low fat versions of butter/milk.

April 16, 2006
0

found this helpful
Best Answer
Here is a recipe for Mashed Cauliflower. Not RT, but good.
Recipe: So Simple Cauliflower Mashed "Potato"
Category: VEGETABLES
8 Cups cauliflower florets or a small head of cauliflower
1/4 cup Kraft ranch dressing
1 green onion thinly sliced
Bring water to boil in large sauce pan. Add Cauliflower, cook 15 minutes or until cauliflower is very tender. Drain cauliflower, add dressing and mash until cauliflower is light and fluffy. sprinkle with onions. Serve.
By Big Al (Guest Post)
November 6, 2006
0

found this helpful
Best Answer
For the best results steam the cauliflower, this method retains the flavor and nutrients. It also keeps the integrity of the cauliflower from being "mushy". After steaming mash and add other ingredients, try feta cheese. Finish by baking in oven until a light golden crust forms. RT is marginal at best.
By arline handin (Guest Post)
August 25, 2007
0

found this helpful
Best Answer
I've tried them all and I came up with my own recipe that I think is better than all of them and low fat. Just steam a head of cauliflower in very little water - put garlic in the water and when the water is evaporated wait a minute or two till the bottom sticks slightly and it is tender - just mash it with pepper and butter or Smart Balance and it tastes like mashed potatoes with onions.
By Marie (Guest Post)
March 7, 2008
0

found this helpful
Best Answer
I made them last night and if it's the same ones your talking about they taste like mashed potatoes. I just steam the cauliflower in the microwave, try to make sure when they are done they don't have as much liquid in them.
then you put them in the blender or food processor to texture and add butter or butter spray and roasted garlic. no milk is needed. So good! So good for you too!
By Gregg (Guest Post)
March 13, 2008
0

found this helpful
Best Answer
The best way I have ever had Cauliflower Mash is to take an onion cut, at least 1 cauliflower cut up and a garlic clove cut up. Boil this til soft and then drain very well. Add some goat cheese or cottage cheese pepper and mash. When it doesn't matter for dietary reason, I will add just a little potato flakes just to make them more firm you will be surprised just a little bit of that potato taste and you will think it's all potato.
By California Sunshine (Guest Post)
February 21, 2009
0

found this helpful
Best Answer
I used cream cheese, salt, pepper, garlic, onion powder, came out great. Mashed with a manual potato masher.
CostCo sells packages of Boursin cheese, garlic & herbs, and others. We'll try this instead next time.
Answer

this Question