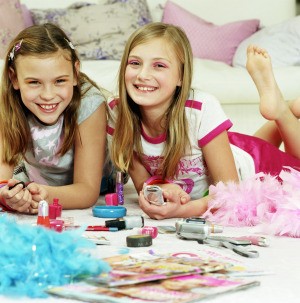 I'm planning a pamper party for my 12 year old daughter and was wondering if you could tell me some ideas for it, like nail sets, etc. Thank you.
Millie
Answers

November 24, 2008
0

found this helpful
Homemade facials are a must.
By MM (Guest Post)
December 13, 2008
0

found this helpful
I just made some things for Christmas presents that I said today, these are a must for my daughters next birthday.
Homemade Peppermint Foot Scrub (sugar, mineral oil, peppermint oil) I put them in adorable jars with cute ribbon. You could let the girls make these on their own as well as get or give each other pedicures.
Peppermint Foot Lotion (I purchased Vaseline Intense Hand Therapy and added Peppermint Oil). I am adding in a bottle of red nail polish to make a gift bag set. Also, you could let the girls make bath fizzies.
My daughter made chocolate flavored lip balm at a birthday party recently. I can't remember the exact recipe, but you could search on line and find it. It was Palmer's Cocoa Butter, honey, chocolate, Hmm, I can't remember the rest, but it was so much fun when she brought it home (and tasted great too.)
Good Luck! There are TONS of ideas for this kind of party on line. If you have a Target near you, I noticed yesterday (12/12/08), they had pink and blue short fuzzy robes on sale for $3.24 on the clearance rack. I don't know what your budge it, but how fun would a "take home" goody be if it was a robe. OR you could say in the invite, come wearing your robe. You could do eye masks.
Oh, the fun you will be having. Oh, one more thing, get bottles of water and make cute paper labels to wrap around the bottle with your daughters name or happy birthday, etc.(make her own label so to speak). You are always offered bottled water at nice spa's. Have Fun!
By megan24 (Guest Post)
February 6, 2009
0

found this helpful
Sounds like a great idea! There are lots of recipes for homemade lip gloss and lotions. Let the girls do eachothers nails, do eye masks, and have homemade facials. For party favors, give each girl a gift set of travel-size products. Have everyone show up in their robes, and serve classy, delicate foods.
Hope this helps!
Megan

January 12, 2010
0

found this helpful
I actually have a Pamper Party Business in Pittsburgh, PA. My Princess parties are aimed a little younger than your daughter, but here are some ideas that are age appropriate:
Fruit and yogurt Facials:
1/2 mashed banana
3 tbs plain yogurt
1 squirt honey
Let them mix it themselves and apply to each other. Allow to sit for 15-20 minutes then remove with a damp towel
Make your own scrub bar:
put bowls with the following ingredients out
white sugar
brown sugar
salt
ground oatmeal
vanilla extract (and any extracts really for scent)
honey
vegetable oil
let them mix their own scrubs and spoon into jars. dry ingredients should be mixed with oil until mixture looks like a slushy
Easy chocolate lip gloss
1 tbs petrolleum jelly or cocoa butter
5 chocolate chips
1 vitamin E tablet (preservative)
melt in microwave, add cake glitter for sparkle, pour into lip gloss pots and allow to dry
Make your own slippers:
get plain terry cloth slippers at the dollar store and cover with sequins, glitter, fabric, fake flowers, ribbon, buttons, rick-rack, or any other craft supplies you make have around. I would recommend using hot glue for this activity.
There are TONS of other ideas for these kinds of parties online.
Answer

this Question

I need inexpensive birthday party ideas for a 'makeover' theme for an eight year old girl?

Tammy from Tampa, FL

Answers
By Shelley Hill (Guest Post)
February 23, 2008
0

found this helpful
One game we played at my daughter's 9th birthday, was 'kiss' the lips. Buy posterboard from the dollar store and draw a life-size face on it. I just drew it with permanent marker - very simply done, I'm not an artist by any stretch! Then I drew just an outline of a smiling mouth on the face.
The girls had to put bright-colored lipstick on and kiss the lips while blind-folded. I carefully wiped the lipstick after each girl. You could also use cheap lipstick and give it to each girl to take home with her.

February 23, 2008
0

found this helpful
It would be fun to have "before" and "after" photos as part of the activity. You'd be best going to a dept. store requesting samples of make up for the kids to play with.
You could have the kids design beaded hair clips, let them pick partners to redo their hair and have plenty of fun hair items around for them to work with. The web has many before/after photos that you could print out for them to talk about/and or cut them up and make there own funny faces. It's a great theme with endless possibilities.
By Jenna from Catersville,Georgia (Guest Post)
February 25, 2009
0

found this helpful
GO to Walmart and get some cheap mascara, blush, eyeshadow, and foundation. Then give some kids the make-up and then let ummm rip!
Answer

this Question