I rarely ask questions, I'm generally answering them. But from time to time, the wonderful people here have been so helpful, I thought I would go to you again.
For the last 25 years, I have been saving bits and pieces of things to put in a doll house. Originally, I wanted a farmhouse with little if any modern conveniences, with a big wood stove and coal shuttles next to the fireplace, etc.
Then, I was walking through the local As Is store here in Salem, and I literally stumbled over a doll house. I caught myself and while cursing silently at the item someone carelessly left on the floor, I fell in love at the same time.
I found it was only 12.99 so I stood by it and held my hand on it while the clerk made out the price tag, and didn't leave its side until it was in the car. Every time I look at it, it still makes me smile.
So, what is the problem you might ask? It is that it doesn't look like a farm house. It has round and arched windows and balconies and I don't know what to make of it.
Any suggestions will be appreciated. Thanks so much in advance!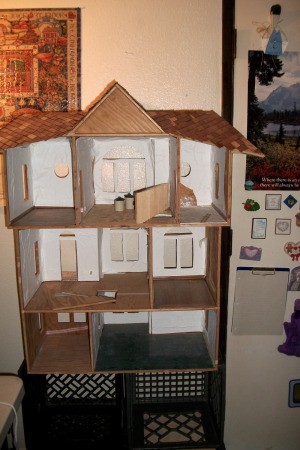 By Sandi/Poor But Proud from Salem, OR