---
ThriftyFun News - Camping Issue
Volume Six, Number 25, June 26, 2004
http://www.ThriftyFun.com
---
Hello,
As we mentioned in our last newsletter, we are now publishing the ThriftyFun News on Saturday. This week's issue is about camping. We are right in the middle of camping season so it seemed like a good time to print some camping tips.
- Suggest a Topic for TF News
In the TF News we like to elaborate on topics that relate to frugal living. Is there a topic you would like to see addressed in a future TF News? Send us an email and let us know what it is: Click Here
- The Daily Thrifty Tips
Want to receive Thrifty Tips every weekday in your email box? If you aren't already a subscriber to the Daily Thrifty Tips, subscribe at the link below: Click Here
- In This Issue:
Frugal Camping Tips
Camping With Man's Best Friend
Preparing for Campouts
Thanks for reading!
Susan
---
Tip Contest
---
Submit a thrifty tip and you might win...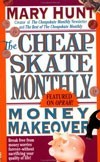 The Cheapskate Monthly Money Makeover: A financial adviser and former credit-card junkie presents her secrets for regaining control, repaying debt quickly, avoiding common mistakes, and managing self-employment, bankruptcy, and credit problems.
---
Today's Tips
---
Removing Tomato Sauce Stains from Plastic
Frugal Camping Tips
A lot of these tips are for tent camping. They are inspired by some hints from an old Boy Scout site.
1. Channel lock pliers make good pot holders for cooling on a camp stove or over a fire.
2. Canning rings can be use to cook your eggs in for egg sandwiches. (Works well for English Muffins or Hamburger buns).
3. Plastic butter tubs make good storage containers for your camp kitchen.
4. A plastic bottle makes a good latrine for cold weather camping. Keep it just outside the tent flap.
5. Old shower curtains and old plastic covered tablecloths make great ground cloths.
6. Waterproof matches by dipping in melted paraffin, nail polish or shellac.
7. Make fire starters by filling paper condiment cups with saw dust and pouring paraffin into the cup.
8. Put matches in corrugated cardboard strips (about every other hole) and dip into paraffin for fire starters. Cut off what you need to start a fire.
9. Make a double boiler for melting paraffin from a 1 lb. coffee can and a 2 lb. coffee can. Pour some water in the 2 lb. can and put the paraffin in the 1 lb. can. Bend a coat hanger so it will support the 1 lb. coffee can off the bottom of the 2 lb. can.
10. A length of chain and a piece of coat hanger bent into an S-shape will allow you to hang your lantern from a tree limb.
11. Keep batteries in an appropriate size prescription bottle to insure that they cannot run themselves down by accident. Bring a nail file or emery board to clean the connections. This can extend battery life.
12. Prescription bottles make good match safes.
13. Prescription bottles or 35mm file containers make good storage places for small items.
14. Grills from old ovens or barbecues can be used for fire grills. Don't use refrigerator shelves as they will release toxic gasses when heated.
15. A frisbee will add support to paper plates when the plate is place inside the frisbee.
16. Make a camp washing machine from a five gallon bucket and a toilet plunger.
17. Cutting slivers off scrap lumber and heating in the oven to dry out the wood will produce some very dry tinder. Remember to store in plastic bags for your next trip. Save candle stubs for fire starters or to use as paraffin to make other fire starters.
18. Insulate your backpacking stove from the ground in cold weather with a 6" X 6" piece of plywood.
19. Cover the ice in a picnic cooler with foil to help it last longer. Keep water in your canteen cooler by wrapping the canteen in foil.
20. When handling evergreens or pine cones, they can remove the sticky sap from their hands easily if they use baking soda instead of soap to wash.
21. To prevent batteries from wearing down if a flashlight is accidently nudged on while you're traveling, put the flashlight batteries in backwards.
22. An empty plastic soda bottle, cut off to a convenient height, will work as a camp bowl. You may want to sandpaper the cut to smooth the edge.
23. To conserve rope, mark each length of rope with a distinctive color and make a rule that the rope is never cut.
24. Wrap a wet washcloth in a foil package and put it into your pack. You'll have a handy 'wet-wipe' for cleaning hands and face after a satisfying camp meal.
25. Foil provides good packaging material for a campers personal toilet articles.
Source: The original file for these low-cost equipment/ideas/fixes for Scouting and camping in general was originally found on a F-Net Scouting board and was reposted on Fidonet on Nov 11/92 by Steve Simmons. The file evidently originated with BSA Troop 886 in the USA.
Post Feedback: Click Here
---
Camping With Man's Best Friend
By Robin Shortt
Man's best friend your dog, and you, can go camping and have lots of fun. Look at it as a walk that doesn't end, during which he gets to spend all his time with you. For us campers, it can give us another means of security and another way of bonding.
For those of you who are wanting to get involved in this great adventure with their pet, there are some things you need to do to make this as fun as possible for both of you.
First time camping pooches should be shown the wonders of nature slowly. City or urban dogs need to be brought along slowly because of their tender pads on their paws, and they need to get used to all open spaces and wonders of nature. Start with taking them on a some day trips to state, county and conservation parks.
The wide open spaces will help your dog get used to unpopulated areas. He wll also find new odours and sights in this stress free environment. Going on nature and hiking trails will also help your dog gain muscle strength and fitness before you go camping.
As we enjoy the companionship of our dogs, they become a member of our families. Going with us on family outings, walks, trips around town, just about everywhere we go they tag along with us. That's fine because we care about them so much. It's not always the same with camp owners who feel dogs are not man's best friend in their camping area. They have good reason to be. A lot of dog owners are not very good in keeping their pets leashed or cleaning up after them. They also don't abide by the camp rules the way they should, but many irresponsible dog owners feel the rules don't apply to them and their dogs. Of course because of these pet owners, we all suffer, thus there are now many campgrounds not allowing dogs. Check ahead to see if the campground you' re going to allows dogs, and if so, are they allowed on the trails, or have special trails set aside for dogs. Also some campgrounds charge two dollars a night for dogs as well.
As loving, caring, pet owners, we need to find a way to take care of our dogs while we go out on the trails with our other family members. We could take turns dog sitting with family, friends, other campers with dogs. One thing we need to do is make sure we are good responsible pet owners. Check ahead before you go camping with man's best friend.
Here are some pre-camping tips:
Try to take your dog for a pre-camping visit for possible needed shots, and a Rabies shot tag for his collar.
Look at a possible Lyme disease vaccine.
Take with you a current copy of his records and his vet's phone number.
Pick up a proper dog license & ID tags for your dog with their name, your name, etc.
Microchips, tattoos and pet registries can be used.
Bring medications and a copy of prescriptions.
Try to get a site with some shade for your dog.
Supervise your dog closely around children, other visitors and other dogs.
Keep your dog quiet. Frequent and continued barking disturbs the wildlife and other campers.
Let your dog have time to adjust to his new surroundings. Give him time to rest.
Try to use ziplock bags to pick up after him and properly dispose of it in appropriate trash containers.
Keep an eye on how weather conditions effect your dog, heat, cold, rain etc.
Consider use of a crate for travel and short term restraint, while you are near. Your pet could be stolen if not watched carefully.
You should be aware that your dog will have increased exposure to ticks and fleas. Take the proper tick/flea collars, repellants or use Frontline applications. Other diseases can also be transmitted by wild animals and insects.
About The Author: Robin Shortt is a father of five children and five step children and thoroughly enjoys the outdoors. He is also a Cub Scout leader,who sees the big picture when it comes to helping our children to love and explore the great outdoors. Visit: http://www.goodnightcampingequipment.com for more original content like this. This article is copyright (c) 2003 By Robin Shortt and you are welcome to link to it.This article provided by the Family Content Archives at: http://www.Family-Content.com
Post Feedback: Click Here
---
Editor's Note: These tips were submitted by a reader in 2001.
These ideas/suggestions are in no particular order:
Always bring your pocket knife, rain poncho, flashlight (with an extra set of batteries), string/rope, toilet paper, and plastic bags.
A small toiletry kit should contain a tooth brush, tooth paste, comb, chapstick, hand lotion, and soap. I always tried to put in some facial tissues. Things to put up long hair (elastics) are great on hot days.
Small backpacks are great for day trips.
Dress in layers with a wind breaker as the top layer. Don't forget hats, gloves, and warm socks/shoes (weather dependent).
Develop a checklist. It may depend on the "type" of camping you do (i.e., tent, cabin, camper, etc.), the time of year, length of the trip, and how far you might have to carry your gear.
Pack all of your stuff in sturdy bags and don't over pack your bags. The ideal situation is carrying all of your personal gear in one trip.
If you are going to be around water, be prepared. Bring your swim suit, towel, sun lotion, hat, sun glasses, flip flops, glass case (if needed), etc. You might also think about whether shoes and socks might need to be worn to the beach. For those who go out in boats and canoes, a strap may be needed if the person wears glasses. A shirt and shorts may also need to be worn over a swim suit if you will be out on the water for an extended period of time.
Do your homework in advance to know what is and is not available at the facility.
After each trip, evaluate what you did and did not use (and why you did not use each item). Also, indicate items that you could have used. Update your checklist(s) accordingly.
Evaluate what worked well and what should be changed for your next camping trip.
Firestarters are easy to make, and help out when the wood is wet.
Bring your matches in a waterproof container. Another option is to waterproof your matches by dipping them into nail polish or melted paraffin.
Start fires only in designated fire bowls.
Have a bucket of water near by any open flame.
A bandana is a versatile item. It can be used as a fire scarf, a sling, a wrap (in case of an accident), a "bag" on a pole, hot pad, headband, neckband, wash cloth, etc. A damp bandana around your neck feels great on a hot day.
Bring something to sit on. (Commonly known as a sit
upon.) There are now camp stools, portable camp chairs, and portable director's chairs.
A mess kit and a silverware set are quite handy. The mess kit includes small pans that can double as a plate and bowl. It generally has a plastic cup with measuring lines on it.
A compass is a handy item.
I had a small manual can opener about an inch or two in length. It was hinged, and it had a sharp blade that you had to work around the lip of the can.
I always liked to put in pen/pencil and some paper in a plastic ziploc bag.
Bring small butter containers for your food leftovers.
Have a plan for cleaning up (dishes, bathroom facilities, trash disposal, etc.) Think about sanitation.
Decide ahead of time what to do with wet things on the ride home.v
Have a contingency plan in case of natural disaster (especially in case of a flood if you are tent camping).
Remember your First Aid kit. Make sure at least one person in your group has a current First Aid certification from the American Red Cross or American Heart Association (or similar organization).
Make sure you know about any health concerns (bee allergies, etc.) of your group members.
Leave your itinerary with a trusted friend or family member and include contact information for each member of your group. Bring along the contact information for that individual who has your itinerary.
Determine in advance how and what you will be eating and cooking. The two easiest meals should be the one right after you arrive and just before you leave.
Practice putting up your tent in the dark if you plan to arrive as it is getting dark.
Store all food in closed containers, so as not to attract animals, bugs, etc.
One pot meals means there is only one pot to wash!
Trail mix is a great snack, and it can be made with a variety of ingredients.
Ziploc bags can be used to mix up ingredients and then the food can be squeezed out of the bag.
The more simple your meal preparation is, the more time you have to do other things!
Remember to allow for free time in your schedule. Relax and enjoy nature!
By Kathy
Post Feedback: Click Here
---
Search ThriftyFun Using Google: Click Here
---
Lots of wonderful feedback is generously posted by readers each day.To read all recent feedback, visit: Click Here
---
Looking for a frugal solution to an everyday problem? Submityour request here: Click Here
---
Support ThriftyFun
---
Three ways to support us:
1. Be sure to visit our website and check out our advertisersfrom time to time. They keep the lights on.
2. Post feedback and send us requests for frugal solutions toeveryday problems.
3. Tell a friend about the ThriftyFun News. Click Here
Thanks
Susan
http://www.thriftyfun.com