My chocolate Lab is 7 months old now and he has eaten, well actually swallowed whole, every pair of socks that I or my kids have
tried to hide from him (he still finds them), and also has eaten 3 of my bras. He eats everything.
He has also consumed a whole box of crayons (he had colorful rainbow poop the next day.), Mardi Ggras beads, paper clips, erasers, Happy Meal
toys, etc. Believe me, we spend so much time hiding things all over the house from him and he still finds it. I know that he eats all this
stuff mainly whole because, sometimes it will come out in one piece in his stool or he vomits it up and if I don't catch and clean the vomit in
time, he licks it all back up again.

I know this is gross, but this is an everyday thing for me and my family. He does eat his dogfood and gets regular checkups at the vet. He
is healthy and happy, but why the heck does he do this?

Does anyone out there have this problem too?

Jo

Answers:
My Dog Eats Socks and Bras
Is he teething? Do you have any dog treats that he can chew on instead of your stuff? Otherwise, you now have a good reason to keep a clean
house and to put your clothes and toys away. Maybe sending him outside in a dog run during the day when you can not watch him would help.
(05/13/2005)

My Dog Eats Socks and Bras
This is something puppies do. My Lab ate 2 of my cacti, picture frames, push pins (ouch!). That must have hurt. They usually grow out of it by
age 2. You have to crate them when you are not home or are not watching them. This worked with both my dogs. (05/13/2005)

By Donna
My Dog Eats Socks and Bras
Perhaps he has a condition called "pica" which is when inedible things are eaten and I believe it is due to a vitamin/mineral deficiency. People
have it too. You might want to do some research and check with your veterinarian. (05/15/2005)

By Brenree
My Dog Eats Socks and Bras
Take the dog to dog training, Never give a dog any thing to play with that is not a doggie toy. Then put Cayenne pepper on sox and things that
they should not touch. I have a shelf for my little dog and all his bone and toys are on it, and he helps himself when he needs to chew. He
never touches any thing else that's not there. Give them a chong with their food in it and peanut butter to close the end and it will keep them
busy for a long time, Your dog is bored, need s more play time, (11/30/2006)

By marieaa65
My Dog Eats Socks and Bras
Found this blog after looking for advice on how to stop my Lab from eating socks. I think there's some helpful info but figure I'd share some
things that I've learned in the two years with my Lab, including his 1st exploratory surgery.

If your dog eats a sock the best thing to do is to get it back up. Best way as I've been told by my vet and read in various blogs is by
giving a small dose of hydrogen peroxide. Best way I've found to administer is through a syringe. Once ingested your dog will pretty much
immediately vomit and the sock will not make it into his intestines. Our lab habitually ate socks even when great effort was taken to keep them
away from him. He must have eaten over 15 socks, throwing up most, passing some, the most recent unfortunately got stuck in the middle and we
paid $2,000 to have emergency surgery to get it removed. The money part sucks, the worst part is the possibility of losing your dog, and if they
do make it, the miserable recovery.

If you dog has swallowed something and you have not seen it come back up or out, here are few signs to look for when deciding to take him to
the vet:
Stretching, if he is lowering his front paws and stretching more than usual, this is good sign he is uncomfortable and there is more than

likely an obstruction.


Pressing his stomach on pillows or cold surfaces.
Sitting funny, almost lazy and slightly hunched over.
Bloating of the belly, a very alarming sign, probably means the intestines are ruptured and dangerous fluids are escaping. This can quickly kill your dog and increasing decreases the chance of survival even with surgery.
Hopefully this is helpful, it really can become a scary problem and I'm just incredibly grateful to have my guy back at home. I hope he out grows this as some people claim in previous posts, I don't want to be back in the emergency room again. (02/02/2007)

By guest
My Dog Eats Socks and Bras
I have a 8 month old Rottweiler puppy who loves to steal stuff, (especially socks) and run away. He hasn't actually swallowed any clothing yet except a piece of a blanket today. I guess it's my fault for not crating him.

Here's some tips I learned in obedience class:
Keep the dog on a house lead so that you can always catch him when he runs away. This should be at least 15 ft. so you can always catch up to

him.


Instead of taking things like socks away from him, "trade" with him. Use a really yummy treat, something the dog doesn't normally get (I rotate with chicken and cheese). Give the command "give" and offer him the treat, only give it to him if and when he willingly gives you whatever it is he has stolen. If the treat you are using doesn't work, try something else until something does. Eventually, he should bring stuff to you willingly, instead of trying to steal/eat them.
Keep your puppy in a crate when you are not able to supervise them. It's best for their safety and your piece of mind. Once they are mature (at least two years for a Rotti), they should (hopefully) grow out of it.
I hope this will help at least someone out there. (02/23/2007)

By shadow
My Dog Eats Socks and Bras
If you see your dog swallow something give him about 10ccs of hydrogen peroxide (for about 50 lb. dog, less for a smaller dog). It should make
him throw up almost immediately. If he doesn't bring up the object, bring him to the vet, they may just tell you to monitor him, but it's worth
it to err on the side of caution. (06/08/2007)

By Jo
My Dog Eats Socks and Bras
"The Peroxide Trick"
Give your dog 1ml of 3% peroxide per kilogram of body weight (or a 5 ml teaspoon per 10lbs).
Check the percentage and scale accordingly.
Give it to your dog in milk.
Down goes the milk, up comes everything.
Dog pulls long face and you need to give him soup and gentle food after. Chicken soup.The dog has been partially stripped of his/her stomach
juices and needs time. Add breathing space and love.
(11/07/2007)

By Jeff G.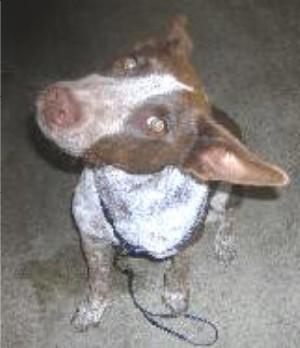 My Dog Eats Socks and Bras
I have read a majority of these posts and if all of you notice, most of the dogs on this thread are puppies. 99% of the people who have posted have dogs under 2 years of age. Puppies need supervision. Puppies need crates. Puppies need to be confined into puppy safe areas. Puppies need training. If you can train a dog to lead the blind, avoid bombs, find drugs, aid the police, hear for those who don't have ears, you can train a dog to avoid socks underwear and bras. It is not a monumental task.
Dogs under 2 years of age need to be confined when not supervised, and if your puppy is stealing socks, where are you when it is happening? Your puppy needs to be on a leash in the home. Yes in the home, until he is trustworthy. These are not trustworthy puppies here.
Why do puppies eat socks, bras and panties? Because the armpits, the crotch and the feet are where your scent glands are. They also lick other dogs urine and poop. This is not a dog problem this is a people problem. Why does you dog inhale the sock as you go to scold him? Because you missed the opportunity to properly correct his behavior. He is being punished "after" the fact. He needs to be caught in the act of grabbing the sock, not once he has already got it. Once he has the sock you cannot go running, yelling "Fido drop it" in an angry tone. He will get frightened and gulp that sucker down. His fear is you will take it a way and he '"likes socks".
These types of puppies are possessive in nature and have been trained that giving up items results in a punishment, so they will dispose of the item as fast as they can. The flip side is he rarely or never has been caught and he has not been corrected, so he has no idea the sock will kill him, or that it is bad. They wolf the item down because you have punished him so many times at the wrong time. Human error, not dog error.

I have been training dogs professionally for 12 yrs and this is a very easy problem to solve. Instead of paying 100s and 1000s of dollars on vet bills, spend a couple hundred bucks and solve the problem, hire a trainer. If you can train dog to avoid rattlesnakes, this should be a no brainer. It is called aversion training. Call a professional, not you local pet shop to find a good private trainer to come to your home, tell them you need to do avoidance or aversion training to save your dogs life and your pocket book. If not, Invest in a hamper with a lid and use
it. (05/04/2008)

By Danielle
My Dog Eats Socks and Bras
I just called our vet after our dog ate chew up and ate half an oven mitt, and she said emphatically that you should never induce vomiting, as it could cause "much" more damage and possibly twisted stomach and to just wait for it to come out the other end. (12/10/2008)

By AE
My Dog Eats Socks and Bras
My dogs eat knitting needles, the bamboo type, and anything wool. I stopped them by spraying perfume on them and they won't touch them anymore.
This might work for your socks. Jan (03/28/2009)

By jan