March 18, 2008
0

found this helpful
Spray String is one idea. Another is a craft I call "Shaving Cream Marbeling Printing" (go to HGTV, the Carol Duvall show & search "shaving Cream"). You put shaving cream into a large, square, flat baking pan then squirt in paint globs of colors that blend well together on top of the shaving cream. Then you slightly stir this around. Then you take a piece of paper & lay this on top. then carefully lift the paper straight off. This will print a colorful design. You can keep doing it till the shaving cream is all gone. Use Tempera paints because they wash off. Acrylics won't (after they dry). If you REALLY want to make a mess the directions say to use Printer Re-inker. BAD idea with kids! Youse Tempera or water color paint! Another idea: Tye-Dye: Have each child pring an old T-shirt. How about a game where you make Jello cubes & the kids try to chatch them in their mouths. One kid throws & one catches, then they change places. A prize for team with the most caught in mouth? (an extra pack of plain gelitin can be added to thicken the jello)
SHAVING CREAM PRINTING:
www.princetonol.com/.../marbling.htm
March 19, 2008
1

found this helpful
Pie eating contests. Make sure the contestants hands are behind their backs and the pies are on a table. People then bend down and need to just put their face in the pie and eat.
March 19, 2008
0

found this helpful
I don't know how old your party guests will be, but my godson loved his food fight. He and all the guests (all boys) were 8-10 years old, split into two teams. I set it up on the lawn, had a zone in the middle they could not go in but rather throw across, with tables of ammunition behind them. A couple of parents of guests wanted the kids to wear a trash bag over their clothes and all had safety glasses. I bought foods that were colorful and trashy, not hardly foods at all, like green ketchup and Lucky Charms cereal (generic big-bag) Jello cubes, marshmallows and corn syrup.
I had buckets of rinse water ready at good temperature on this nice hot day for a pre-rinse after the throwing, then they ran around to my back door and straight into the bathroom to shower (plastic paint tarp laid down in hall) with clothes going straight into a bag, then new clothes laid out to put on. The best part of course was the picture of everyone with their food-paint all over, hands in the air, big grins. It was inexpensive and fun, but one mother felt guilty about the waste of food, but I explained that it was a lesson in nutrition, with better foods indoors for afterward. My lawn was none the worse after a deep watering.
March 20, 2008
0

found this helpful
Make jello in ice cube trays and have a jelly fight! You can also finger paint(or even body paint) with pudding or whipped cream colored with food coloring.Use disposable foil pizza pans for the finger painting, as for the body painting, just have everyone wear their bathing suits!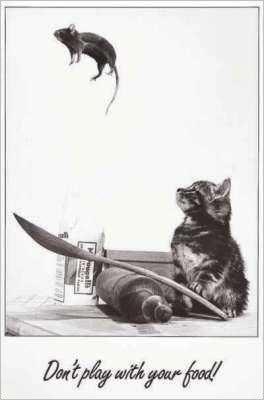 By Teryn (Guest Post)
August 26, 2008
0

found this helpful
I once did a flour fight where I gave each person at my party one bag of flour, it was very messy but easy to clean up. Everyone wore swimming goggles, sunglasses, or skiing goggles so they wouldn't get it in there eyes. It was tons of fun!
June 2, 2009
1

found this helpful
Pass the pie. Kids pass the pie when the tune plays when it stops the kid holding it must pie them self.
June 2, 2009
0

found this helpful
Cheerio face off - the kids must cover their face in butter then put their face in lots of cheerios spreed over the table the one with the most on their face after 1 min wins.
July 21, 2009
0

found this helpful
I have so many games that are great for all ages for a messy party.
One person stands on a chair and a person lays down below them. the person laying down has an ice cream cone in their mouth with ice cream on it. the person on the chair has to drop ice cream toppings (ex. whip cream, fudge, caramel, candies...) onto the ice cream.
Shaving cream fight.
Messy relay race: you split up into two teams. the first obstacle is to run down to a bucket/bag with an egg on a spoon. once you reach the bucket/bag, you must crack the egg on your head or with your hands and place it in the bucket. next, you must pop two water balloons by sitting on them. Lastly, you must go to a table full of tiny cups with frosting in them. you have to transfer all of the frosting in the cup onto your face.
Pie fight: you must pick a partner, and you each have a pie (or a pie plate filled with whip cream etc.) and you must throw it in your partners face.
Messy duck-duck goose: Everyone sits in a circle and one person holds a pie plate of whip cream. whoever they throw the plate of whip cream into their face, that person has to get up and chase them (like duck-duck goose).
July 21, 2009
0

found this helpful
You can also hide m'n'ms in a plate of whip cream. You must tie their hands behind their back, and they must retrieve all of the m'n'ms.
Messy make-up: you pair up into partners, and one of the partners wears a blindfold. They must then put makeup on their partner without looking.
August 23, 2018
1

found this helpful
Oh yes! Haha. So how about you make a cardboard or wood stand with a circle in the middle. Decorate it as desired. Then, fill pie crusts (not tins!) with colored custard. Have a person stick their head in the hole and someone else throw a "pie" at them! It's fun, messy, easy to clean up, and hilarious! If you want you can also have that person sit on a stool and give them pie facials (here's a tutorial www.youtube.com/watch?v=T4iUcemF0OE)