By Stacey (Guest Post)
June 10, 2008
0

found this helpful
You can get wardrobe boxes in which you can hang all of those types of items from moving truck rental companies, etc. If you can't find those, you can get plastic covers, like the ones you get from the dry cleaners (they'll usually sell some too you for pretty cheap) and leave the suit on the hanger, place the plastic over it, roll it all up together, yes with the hanger (don't fold, roll) and put it in a box, suit case or whatever you'd like. I don't know exactly why, but the plastic stops the material from wrinkling and will arrive in perfect condition. I use this technique to pack delicate items on trips and it works perfectly.
I'm moving right now too.
Good luck!
By fpj (Guest Post)
June 10, 2008
0

found this helpful
Leave them in the dry cleaner plastic bags. Have no idea why, but keeps them from wrinkling. Works for many types of clothes. You can even put more than 1-2 things in the same bag. I wouldn't put more than 3 or so things, though.
By Jean from Mississippi (Guest Post)
June 11, 2008
0

found this helpful
Put a sheet or something similar on the bottom of the trunk first. Lay the clothes on the sheet. Tie the tops of the hangers together (string, rope, cable ties - whatever will work). Fold the sheet snugly over the clothes. You might need to use safety pins or clothespins the hold the ends of the sheet together. The clothes should not move much with this method.
June 11, 2008
0

found this helpful
The best luck we've had is with one of those hanger boxes that you get from the mover or at a box store. They are expensive but you can sell them when you no longer need them.
We tried packing them with the dry cleaner bags around them and it worked pretty good. But the box was so much better.
By U*u*U (Guest Post)
June 11, 2008
0

found this helpful
What I usually do (I move a lot) is tie the hangers together, and hang one robe, dress or long shirt around a bunch of hangers. I tie the robe closed, or button the shirt around the bundle it covers. you can also lace the bundles together at the 'Y' point of the hangers. A womans size 12 shirt should be able to wrap about 12 - 15 items if they are not too bulky, but U can experiment to see what seems to work for you.
Wardrobe boxes are expensive, but great to use. Perhaps try to freecycle them (?)
June 12, 2008
0

found this helpful
I agree with using the special moving boxes for hanging clothes that are called "wardrobe" boxes. They are worth the expense I found. They have a bar to hang the hangers on, just like there usually is in a closet and tight fitting sleeve-style covers.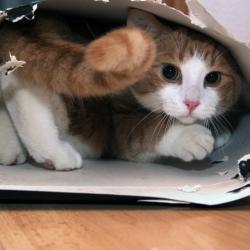 June 14, 2008
0

found this helpful
I agree with the dry cleaning bags -- or tissue paper folded in between them (I do this when packing for a trip).