What is the best diet for a 7 week and under Boxer puppy?

By Gerard DeFour from Port of Spain, Trinidad


Answers:
Choosing the Best Puppy Food
Purina Puppy Chow. I raise Bernese Mountain dogs and only use that. Good luck with your new family member. (11/13/2009)

By carolyn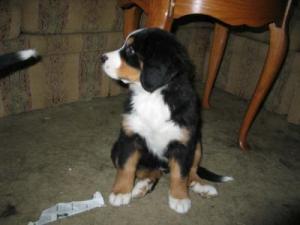 Choosing the Best Puppy Food
Check with a holistic vet. Sometimes just a phone call away. Raw diet is best. For convenience, check with good groomer who carries natural foods. Spend it on the food and you won't have to spend much on the vet. Consider a holistic vet, please. Keep immune system strong for good bones, coat, teeth, and stomach. Do not destroy immune system with vaccines. Check documented ingredients on vaclib.org, Don't poison needle them. (11/16/2009)

By vicki hood
Choosing the Best Puppy Food
My vet told us to get Hill's Science Diet food. It comes in different configurations. Sold at the vet's and Petco. Probably Petsmart, too. Buy the Hill's Science Diet, keep the list of nutritional analysis and components, and every time you go dog food shopping, compare what you are contemplating buying against what Hill's offers.

Note: If the pet food makes your dog poop a lot and there is a lot of poop, know that this is not being digested. High quality dog foods will cause smaller waste products because there is less filler. Remember (if you don't know much about nutrition) high protein is better than a lot of carbohydrates.

A few years ago, when many dog food products were recalled, Hill's was not one of them. Our neighbor's dog had become ill, and asked if we were spraying toxic insecticides on the lawn thus causing the dog's problems. Well, we weren't spraying at all and it turned out that their dog food was contaminated and recalled and that's why their dog was so ill. A very real problem. (11/16/2009)

By Holly
Choosing the Best Puppy Food
Please do not use Iams, there have been so many dogs that have died from this food. (11/16/2009)

By LEONA LABINE