October 28, 2006
0

found this helpful
This is a picture of the fudge I am looking for the recipe to.
Bonnie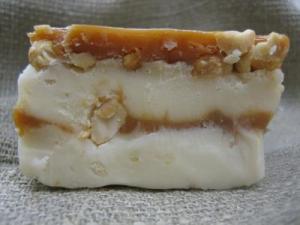 July 27, 2016
0

found this helpful
Here is the recipe you wanted... BEST FUDGE EVER! The only thing you need to add is the melted caramel on top of the fudge and melted peanut butter chips (sprinkle salted peanuts on top of that) allrecipes.com/.../
By Heidi (Guest Post)
October 29, 2006
0

found this helpful
Have you checked the web site www.recipezaar.com?
They have all types of recipes there, you may have some luck.
By the way, that fudge looks delicious
Good Luck
October 30, 2006
0

found this helpful
At first I thought you were asking for an "Almond Bark" recipe, Bonnie (and perhaps you are). Here's a good one with which I've had good success.
(from southernfood.about.com/.../blbb364.htm)
INGREDIENTS:
1 cup (6 ounces) blanched whole almonds
16 ounces white chocolate pieces
PREPARATION:
Spread almonds in a single layer on a cookie sheet. Bake at 350° for 10 to 12 minutes or until toasty brown, stirring occasionally. Set aside to cool.
Heat chocolate over low heat in a double boiler or microwave until melted. Do not overheat.
Stir in toasted almonds. Spread candy on a waxed paper-lined baking sheet; refrigerate until firm.
Makes 1 1/2 pounds
Break into chunks (using your hands, not a knife). Lay chunks onto (red) tissue paper inside a gift box.
Even if it's not the recipe you sought? If you try this, I hope you enjoy.
Cheers,
Rose Anne
December 18, 2008
0

found this helpful
hmmmmmm i want some. gosh this looks so good, did anyone find the right recipe for this? thanks. happy holidays.