Sandy Bass
Bronze Post Medal for All Time! 114 Posts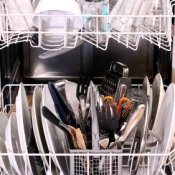 If you have discoloration in your dishwasher, just pour in a cup of Tang orange juice crystals. Run the washer through a regular cycle and you'll be amazed at how hard water stains and discolorations have disappeared.
Source: Shared by a friend years ago.
By Sandy Bass from Elon, NC
Read More

Comments
I have a request for information on how to get my dishwasher clean on the inside. The baskets and the walls have all turned a dirty orange color due to extremely hard water. Since we live in an apartment I'm not sure if there is a water softener, but it seems to be getting worse daily. Could it be due to the iron in the water?
Is there something I can use to put in the dishwasher to clean it and then something I can continue to use so it doesn't happen again? It looks terrible and I don't even want to use it if I have any company because it's embarrassing. Thank you in advance.
Cheryl
Answers
I had the same problem. I cleaned the dishwasher with Lime Away full strength and let the Lime Away sit in the bottom for about an hour to ungunk the drain, etc. Then run the dishwasher, empty. Since Lime Away tends to suds up I added a small amount of Downey to keep the suds from possibly getting too high. Worked like a charm. Now about every 2 weeks I run a half gallon of white vinegar through the dishwasher to prevent the buildup.
Judith
Cheryl, it does sound like rust stains from hard water. I use to work for a laundromat and we would get a product called Red-B-Gone from the local water company. We used it to clean the rust from our machones when they flushed their lines. I would suggest that you call your local water company and ask them about this product. Many water companies (state and city run) offer atleast one bottle per customer a year.
If they do not offer this find some and run it through your washer. If i recall right about a 1/2 cup should do it. After this i would suggest that you use a rinsing agent such as jetdry, it should help with future problems. **Please take note thatRed-B-Gone is very caustic** run the machine again afterwards to remove and residue. I hope this helps you.
Mrs. Kathy Cohen - Northfield, VT
I haven't experienced this personally, but have heard that if you run the dishwasher with a packet of dry kool-aid, lemonade flavor, it washes away the orange. You just repeat this periodically.
Kim
The orange inside your dishwasher definitely sounds like iron in your water. When we bought our house, the previous owner had never had a water softener, so everything looked terrible. Even the wall in the bathroom were orange from the shower spray. We used Iron Out on everything, from the dishwasher to the shower. Good luck!
Heather

December 3, 2000
0

found this helpful
Hi Cheryl..... I had the same problem for over 15 years and I found this solution which is probably the cheapest.... Use Tang !!
I buy the big one at Costco and use a scoop per week on the pot scrubber cycle but don't add it until the "wash cycle". It does a wonderful job.... and the kitchen smells great too.
Marianne

January 26, 2001
0

found this helpful
We had the same problem until we were told about Amway Dishwashing powder,it is more costly but balances out, you use just a small amount in the dishwasher at a time.I have found it takes out a lot of stains from cleaning coffee pots to hot tub filters.
By Cheryl (Guest Post)
May 27, 2004
0

found this helpful
You can get Lemi Shine at Wal-Mart and it does a fantastic job taking that orange stain out PLUS it is a very safe product that you can use every time you run the dishwasher.
By Lisa (Guest Post)
November 2, 2004
0

found this helpful
I use Tang or actually a genertic of Tang and use a cup full, run the cycle by itself and your dishwasher will be like new.
By victoria (Guest Post)
December 30, 2006
0

found this helpful
i think the orange stains in a dishwasher are caused by spaghetti bolognaise sauce anything tomatoey will stain it and it stains jugs and bottle teets too if you don't rinse your pans and plated thoroughly first its not rust...
Read More

Answers

How do I remove hard-water build up on dishwasher walls, from well water?
By BEA from McAllen, TX

Answers

October 29, 2009
0

found this helpful
Fill a plastic spray bottle with lemon juice or vinegar and spray . Leave for 10 to 15 minutes. Good luck.

October 29, 2009
0

found this helpful
A product called Lemishine worked wonders for me. I buy it at Walmart near the dishwasher detergents. They frequently are out of it so that might also be a testimonial to its effectiveness.

October 31, 2009
0

found this helpful
Can also use sea salt, found in or around the spice section of grocery store.
Read More

Answers