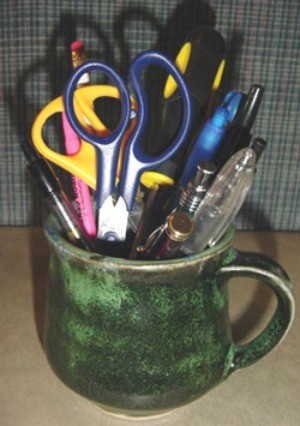 It seems easy to collect a lot of coffee mugs without even trying. What are some creative uses for coffee mugs? Here are ideas from the ThriftyFun community. Post your own ideas here.
Use In Craft Room Or Kitchen
They are great to use in your craft room, to hold scissors, pencils, pens, glue bottle, colored markers, etc. In the kitchen under the sink, store your dish brush, bottle brush, plastic scrubby, wet sponge, etc.
By Syd
Several Gift for Coffee Mugs
I got one this past summer that had a "country goose" on it. To me that seems a little outdated but inside, my friend had given me a nice bouquet of flowers that had a root system growing so it could be potted! Another way to use them is for Bingo prizes or white elephant gifts for your club or organization. Or send a friend or neighbor some soup or something and there is no need to worry if you don't get the mug back!
House Plant Cuttings For Gifts
I always use them for plant cuttings as house warming gifts, gift to the hostess when invited to dinner, thank yous for when we stay with relatives out of town. It is so easy to just add some good soil and start a clipping from my house plants! I always keep a few rooting for gifts.
By Terry
Donate To A Shelter
Donate mugs to a homeless shelter so they can use them to serve coffee or soup.
Hot Coffee For Hard Workers
Here's a great idea in nasty weather. When you see the guy who drives the snowplow approaching, make him a hot cup of coffee or cocoa. Put it in one of your "extra" mugs, flag him down and hand it to him, and tell him he can keep the cup! These guys work very hard in weather the rest of us avoid going out in, they deserve a nice gesture and a word of thanks from time to time! Of course, this also applies to your mailman, school bus driver, trash pick-up guys, etc, etc.
By Becki in Indiana
Pencils, Makeup or Gift Container
Extra coffee mugs can be put to good use at your desk to hold pencils, etc. I use one in the bathroom to hold mascara, combs, etc and keep them organized. They make nice housewarming gifts or stocking-stuffer type gifts, you can fill them with candies, assorted tea bags, etc.
By Becki in Indiana
Give To Nursing Homes
My cousin collect mugs for the nursing homes in her town. She buys them at yard sales and flea markets for 10-25 cents. She washes and disinfects them, fills them with mints,a pocket comb, tissues and whatever she can find on sale. She then gives them to the men. They really like that someone pays attention to them for a few minutes. One man dumped out the stuff on his bed and went right to the kitchen for coffee. I think they get tired of disposable cups.
By Vi Johnson
Great For Individual Servings
Make individual portions of a pudding recipe for "Koppiepoeding" or "Cup Pudding".
By Willem
Make Candles
I use mine to make new candles in. I melt down old candles and put in my new wick and, ta dah... a new candle is born!
By IMAQT1962
Answers
March 7, 2007
0

found this helpful
Love Great Granny Vi's idea! Going to do that this weekend. There are a lot of convalescent homes and shelters and board and care facilities in our town here and selfishly, it would make ME feel good, too!
:) Thanks GGV!
March 7, 2007
0

found this helpful
For Christmas gifts I put a pack of hot chocolate, a couple of hersheys kisses, a few mini marshmellows and a candy cane..makes a really great gift for co-workers,teachers, mailmen, and paper deliver...anyone you want to give a little gift...there are such cute christmas mugs at yard sales and thrift stores....Also can be filled with candy...
By Gail Erman (Guest Post)
March 7, 2007
0

found this helpful
We have 9 children and have gone through many sets of glasses, even plastic ones. I hit upon the idea of using coffee cups instead, and at 10 cents or so we can afford it. Everybody has a different one and when the handle is knocked off, kids get to pick out a new one and since they are all different, we always have a complete set.
By connie (Guest Post)
March 8, 2007
0

found this helpful
i pick up coffee mugs at the thrift store by the dozen. If you make a cake mix you can fill the cup 3/4 of the way and bake in oven. now frost it and put a candle on top. Take it to an elderly neighbor as a birthday cake, valentine cake, easter cake etc. you get the idea!!Also is great for smaller children. They think they have their own cake. This only takes like 15 min. in oven. You will love their expression when they get to blow out the candle
March 9, 2007
0

found this helpful
I bought some small, short/squatty melmac coffee cups and they are just the greatest to serve my kids ice cream in. They hold just the right amount plus they have the handle to hold onto!
June 22, 2009
0

found this helpful
Hello,
I know there are just posts about uses here and i was wondering if anyone knew how to get mugs donated.
My work is a non-profit organization providing services to the elderly and adults with disabilities.
We are trying to go green and we were wondering if anyone knew how we could get coffee mugs donated to us, it doesnt matter if none of them match.
Thank you!
December 16, 2015
1

found this helpful
Put out the word to the churches and synagogues in your area. Ladies' groups love projects like that. As a former school districe employee I used to get lots of mugs .... Rather than a holiday gift exchange it was more like a mug exchange. And the children's parents always throw in some mugs with small items or candy inside.
Answer

this Question
I like like to find some other uses for coffee cups.
By nicole

Answers
October 14, 2009
0

found this helpful
Use one in your bathroom for toothbrushes - prettier and easier to use than those that have holes too small for today's brushes. Also useful for make-up brushes & nail files.
Pen & pencil cup, obviously.
The handles make mugs easier to eat from - soup, chili, ice cream, etc. (I don't eat as much as when I use a bowl!)
I keep one in my flour canister - I don't need an exact measurement when I make biscuits.
October 14, 2009
0

found this helpful
I have a mug with an odd shaped handle with my tooth brush and toothpaste in it. I also have 2 that were gifts from my son and daughter in law that I don't want in "circulation". They are sitting on the counter with small items in them, measuring spoons etc.
October 15, 2009
0

found this helpful
If the cup is good sized plant some violets or other plant and give them as gifts.
October 15, 2009
0

found this helpful
Fill them with mixed nuts, jelly beans, or licorice bites...wrap that it Xmas "sell-a-phane" (do not know the proper spelling of the word) and gift them to folks on your list to get gifts for this year. Your only out a coffee cup & 8 ounces of nuts or candy. Perhaps the mixed nuts is the better idea as you do not know if the people receiving them are diabetic or trying to watch their waist line.
October 15, 2009
0

found this helpful
Use as a pen and pencil holder or as flower vases, I do ;-)
October 16, 2009
0

found this helpful
Hi, you can paint a plate and the cup, or try a little decoupage on them. After you do that then glue the cup to the plate and put a little piece of Styrofoam in the cup to hold fake flowers and even some picks. All of this is available at craft stores. You might even get this stuff free on freecycle.com. These make cute gifts. We made some years ago as gifts to folks in the hospital. Use a good glue. Have fun, Travis
October 18, 2009
0

found this helpful
Umm... it's FreeCycle.org. You'll find links to your local FreeCycle groups there.
May 21, 2010
0

found this helpful
Donate to the local thrift store. Or, if you are into crafts, put old ceramic cups into a heavy plastic bag, (Wear eye protection & gloves). Take bag of cups outside or to the garage, and carefully break cups with a hammer. Make a mosaic table top or other project with your pieces.
April 24, 2017
0

found this helpful
Think simple. Repaint and fill with soil put a flower or beautiful arrangement in it. Just be sure to break the handle off first.
Answer

this Question