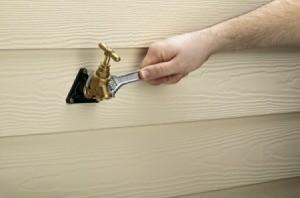 "Bill, before you go, would you look at my toilet? It's been running for weeks."
"Sure, Marilyn. Anything for my little sister. Just lead the way."
An hour or so later after . . .
Bill had reached down under the toilet to turn off the water.

The valve snapped off the end of the pipe.

The bathroom flooded.

Marilyn stopped the flow of water with her finger.

Bill whittled the end of a fat pencil and hammered it into the hole where her finger had been.

Marilyn went to the hardware store.

Bill cut off the condo building's water supply.

The lady in the front unit needed ten more minutes to rinse her soapy laundry.

The guy upstairs had to go next door to the bar to use the restroom.

Bill dust panned the water from the floor to the shower.

he couldn't get the valve Marilyn had just bought to seed.

Marilyn made another visit to the hardware store for a new pipe.

Bill replaced the broken pipe and twisted on the shut off valve.
Then and only then, was the original problem, the 79 cent gasket, an easy fix.
Soon after the bathroom debacle, Marilyn enrolled in a continuing education class: Basic Repairs that Anyone Can Do". She figured she could save time and money (and avoid inconveniencing relatives and neighbors) by learning how to repair or replace toilets and other household items on her own.
The instructor of the class, a local handyman, welcomed and reassured the 3 men and fifteen women. Then he told them, "My mother's friend paid $300 for a potty part that costs just $15. My goal is to show you how to avoid similar rip offs and help you keep your homes safe."
The topics to be covered were listed on the chalkboard:
Introduction to Tools
Plumbing
Hardware and Adhesives
Electrical
Home Safety
Painting
Outdoor Lawn and Garden Maintenance
Hurricane Preparation
Throughout the 8 week course, Marilyn was a good student. She listened intently, took copious notes, and asked lots of questions.
Soon afterwards, Marilyn hung her own blinds, installed molding around her windows, replaced a J Trap and faucet in her kitchen, mounted a new ceiling fan, and changed a gasket and valve in another toilet (without mishap). All by herself, she did this.
She felt confident that if she got in a bind, her handyman instructor would walk her through the job (for $35 an hour). Or if he needed to take over and do it himself, he'd charge $45. She never needed his assistance, however.
My friend Marilyn is a smart lady.
By Viaux from Miami, Florida
Comments

xintexas
Silver Feedback Medal for All Time! 278 Feedbacks
January 17, 2013
0

found this helpful
Top Comment
I do all my handyman work my self and have for years. I have done plumbing and minor electrical work. Any thing major I have hired someone but that is rare. My motto is I can fix anything except if it evolves heaving lifting or a lot of muscle. What I can't do I look up to see how to fix. This weekend My friend and I are putting up a glass back splash in her new kitchen.
The new kitchen that she and I put all the cabinets together in. The next day I will grout it for her so next time she does tiles she can do the grouting herself. She bought a counter top that she had to have installed. As I said some things are better left to an expert.

Gloria Z
Bronze Feedback Medal for All Time! 147 Feedbacks
February 14, 2015
0

found this helpful
Top Comment
I did my own repairs & remodeling. I rented "How to" videos, bought books on remodeling a house and repair work. Remember, if you mess the job up you can always hire someone to fix it the right way. Also remember even if you have an extreme problem it can always be corrected-get 5 estimates first and one of them will come in at the right price.
Don't go for the cheapest estimate the parts & labor might be bad. Instead choose the "middle" price & you'll be happy.