This would make a wonderful Mother's Day gift for the yarn artist in your family and this is a fun project for the home wood shop person in your home. With some cheap materials, you can have this made in a short time and begin to enjoy added tassels and pom poms to your handmade hats, scarves and afghans. This is also a good way to recycle those wooden dowels that flags that hang outdoors come on, if yours got hit by a wind storm.
Materials
Tower:
1 length of dowel, 1 inch dowel cut to 14 inches
Pegs:
1 length of dowel 1/2 inch cut into 2 pieces 8 1/2 inches long
3 wooden balls
Base:
1 piece of heavy wood
You can use a plaque from the craft store or a nice piece of wood that measures approximately 5/12 by 10 1/2 inches.
stain and varnish
Directions
On your base piece, drill a 1 inch hole three inches in from one edge of your base piece of wood. Drill all the way through the base.
Clamp tower dowel to workbench and drill 12 evenly spaced 1/2 inch holes in dowel.
With sandpaper wrapped around a pen, sand holes smooth.
With a good brand of wood glue, glue tower into base.
With sandpaper, flatten one side of one of the wooden balls and glue to top of tower.
Now you are ready to make your pegs. Cut the 1/2 inch dowel into two pieces that are 8 1/2 inches long.
Drill 1/2 inch hole into the two remaining balls and glue onto your pegs.
Sand all pieces and then assemble.
With pegs removed, stain and varnish.
To use, decide on what size you want and wrap yarn around the pegs. For pom pom: Tie off with a piece of yarn tightly in center of wrapped yarn. Slide off pompom and tassel maker. Cut loops and fluff.
For tassel: Slide yarn through loops on top peg and tie. Do a tassel tie at top of loops and then slide off of the pompom and tassel maker. Cut loops on the bottom and your tassel is done. Many different sizes can be made just by adjusting the pegs. Have fun!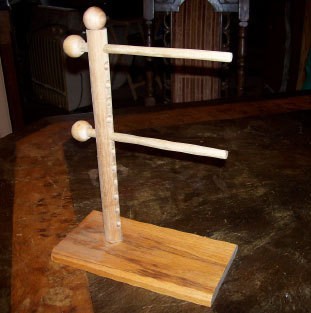 About The Author: Debra Frick is a mother of 5 and a grandmother to 7 grandsons. She is a published author and poetress. Born in California, she now lives in Colorado Springs with her husband and many pets. Her hobbies include crocheting, reading, arts and crafts and bargain hunting.
Add your voice! Click below to comment. ThriftyFun is powered by your wisdom!
Add your voice! Click below to comment. ThriftyFun is powered by your wisdom!