By grami948 (Guest Post)
December 9, 2008
0

found this helpful
Could well be fleas as they can continue their life cycle as long as they have anyplace warm to thrive.... like a bed, furniture, carpets, etc. You might want to contact the people who own the house to see if they have had problems in the past with fleas or any other types of bugs. You should be able to see fleas crawling on the puppy's skin at the base of the fur. Just slowly run your finger against the fur to expose the skin. You could give the pup a bath & if it has fleas, you'll see them floating on the water. However, A bath isn't a cure as live fleas will jump right back on the pup as your & the pup's blood is flea's food source. For a puppy as young as you have, I'd find the money to take it to a vet as too many "human" things are dangerous if not downright fatal to dogs & cats. Also, the puppy being so young could only intensify the problems. Good luck!

December 9, 2008
0

found this helpful
I wouldn't use your medication on your puppy. The puppy should be seen by a vet and get his own medication. Also, a 3 wk old puppy could very much be missing his mother as 3 weeks is way too soon for a puppy to be taken from his mother - don't know the circumstances so I am not criticizing but the little thing needs a vet.

December 9, 2008
0

found this helpful
Sounds like you both were victims of bed bugs. Take them to the vet -they will probably give you something along the lines of calamine lotion or cortizone, for the itching and inflammation.
By tina (Guest Post)
December 9, 2008
0

found this helpful
Maybe it's bedbugs.
By chris t. (Guest Post)
December 9, 2008
0

found this helpful
One thing you need to do, is find out what is biting you both. But to stop itching, use straight white vinegar, dab it on & let it dry. After drying, it stops the itch. Sometimes it itches more till it's dry.
You can use it as often as you want. I have had spider bites. Other suckers get me & tried many things. The vinegar works best & is non-toxic.
By Michael (Guest Post)
December 10, 2008
0

found this helpful
You may not believe this but WD-40 is made from fish oil and it has cured skin ailments on a friend of mines dog that the vet couldn't cure. They are writing a paper on this.
By Izza (Guest Post)
December 10, 2008
0

found this helpful
Thanks. No fleas, though. Could be bed bugs but are they tiny? Can't see any bugs. Called my doctor and he said chiggers, I am living out in the country and was hanging my clothes outside- No more! I took the advise of an online vet and started giving my pup olive oil in his food and an oatmeal rinse after shampoo for itching. I was also told to clean his ears with white vinegar, because if it's mites, they are in his ears and to clean outer ears with vitamin E-- had both and am going by the vet's instructions.
The puppy is doing better! Today, he is asleep and not scratching. As for me, I scrub my body and then, I will use a mixture of 1:2 of bleach and water. It has stopped the itching (got this from someone online), and I washed everything with hot water and bleach. I have also aired the mattress. AND I got a big bottle of OFF. Here's a picture of BB -- resting peacefully. He thinks the heater is for him only.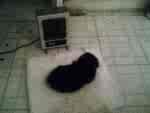 Maryeileen
Bronze Request Medal for All Time! 59 Requests
December 10, 2008
0

found this helpful
As someone stated earlier, a puppy that is only 3 weeks old should not be away from its mother (unless, of course, it's an orphan). You should not be using medicine that is for humans on it; it should be taken to a vet immediately.

December 10, 2008
0

found this helpful
It really sounds like fleas to me. I had cat get them once and they were really bad in my daughters room. She would wake up in the morning with bites up and down her legs. I had to wash everything in really hot water, flea bomb the whole house and then wipe down ever surface.
They will live in carpets for years feeding of dead skin, etc so if they haven't had a problem now it doesn't mean they haven't ever been in there.