July 20, 2011
0

found this helpful
Best Answer
I have a dachshund mix named Banjo who is super allergic to everything "summer" If there is even one flea on her then breaks out in allergy so she takes Comfortis at the vets which does not need a prescription, and it gets rid of fleas. I would give her from now on, each day, a about 1/4 tsp of cooking oil in your hand and see if she will lick it off. I would make sure the dog food she is eating has more protein in it, the real kind of protein for the summer months. A lot of the dog foods that do not have meat alone listed in the first ingredients have lots of allergens in them. Some people have suggested to give the dog boiled chicken for a few days to see if it is just their food that is bothering them.
Give the dog about a spoonful of plain unflavored yogurt, this helps with yeast, and don't give any people food.
I would either go to the vet and get a shot for the dog or give it Benadryl, 1 mg per pound of body weight. You can give 2 mg per pound of body weight but I never do that much.
Poor baby. Summer is so hard for them to deal with. Chewing on feet can be a sign of yeast problems on the skin. There is a shampoo that the vet can give to get rid of surface yeast on the skin of dogs, you have to bathe them every week in it. It really helps and if it is a yeast problem there is a couple of pills the vet can prescribe.
Bless you and good luck!
Robyn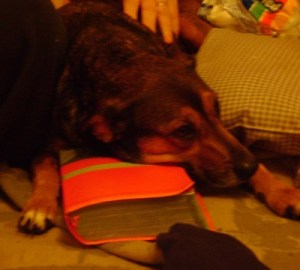 July 21, 2011
0

found this helpful
Best Answer
Do you fertilize your lawn in the summer? Many dogs are allergic to commercial nitrate fertlizers and will itch until they no longer have contact with it.
Folks I know have solved the problem by switching to organic fertilizer.
March 29, 2016
0

found this helpful
Best Answer
My dog licks his feet every spring. He does this because he has allergies. The licking and biting is a response to not being able to attack his allergy areas, ie. head area, back, so he licks and attacks his paws. Try having him tested for environmental allergies with your vet. Or start with benedryl tabs of 25mg. Ask the vet FIRST!!!
July 20, 2011
0

found this helpful
It sounds like allergies and my dog has similar issues. Benadryl can be given to dogs to eliminate the itching.
July 21, 2011
0

found this helpful
I went into a vet try tea tree cream on it that's meant to stop it itching.
July 21, 2011
0

found this helpful
Diet? No corn wheat or soy. Some raw is best. Nzymes granules great for skin and all their health. NAthlete's foot spray will not hurt them for a temp fix. Can even be used on cats. Don't spray eyes. No grocery aisle pet foods. Go to specialty store. Purina, even science diet have fillers first ingredient, corn. Corn is an allergen as is wheat and soy. Need a little kibble? EVO is more expensive but pets eat less because they are satisfied.
You can cook short grain brown rice, lentils, ground turkey, a little sea salt, a little coconut oil (fish oil, flax oil is good too). Boil a sweet potato every once in a while. They love them. Uncooked veggies over their cooked food is great. Fruits even, but no grapes or raisins (they can kill). Canned pumpkin is good for elimination. Google good diets. No vaccines. They wreck the immune system. Bring on allergies and all sorts of weaknesses. Google any anti vaccine site for ingredients in vaccines. Never again.
July 21, 2011
0

found this helpful
Our dog has the same problem and the vet told us to give him one Benadryl pill every day. Check with your vet as our pooch is 75 pounds. Generic Benadryl pills ok.
July 21, 2011
0

found this helpful
This is called "summer itch" when new grass starts to grow and if this was diet related the animal would have itchy feet year round. Change your Veterinarian. Good luck.
July 21, 2011
0

found this helpful
Muck itch also bothers horses in summer and the fix for dogs and horses is the original Lysol. l tablespoon to a gallon of water 2 times a week then one a week don't wash off. It happens with a lot of animals.