June 23, 2009
0

found this helpful
Do you have an algae eater along with the fish in the tank? We have a 15 gal tank w/ goldfish, and 2 "Oto" suckermouth cat fish which are algae eaters. They don't require any special food as they eat the bad algae that builds up, but will leave the good algae behind. When and if they clean the tank and have run out of "food", simply put in a small amount of thawed frozen spinach. We've had ours for 2-3 yrs and have never fed them. They do not grow larger then 1" so you might need more then 2 for the size of your tank.
Oto's come in 2 colors, and I've added a photo of what ours look like. You'll also notice algae on the decor behind. That is now gone because they have eaten it.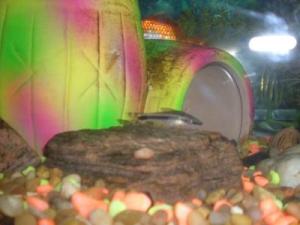 June 23, 2009
0

found this helpful
Different kinds of algae, grow different colors. What dictates the algae you might have growing in your tank, is elements in the water & light. Good full spectrum lights are needed to grow good algae, & you do need it, if you don't, you have a sterile tank & the fish won't live well or for long. Also, what water are you using in the tank? If you use good quality bottled water & not faucet water chemically treated, this helps a lot. The elements in the water provides "food" for different algae.
I was in the industry for long time, 20 years. If the water you use in a salt water tank has a lot of silica, you can grow some nasty stuff, that is hard to get rid of once it starts. There's 3 things you need to grow algae. Depending on the quality of those things, enables the various kinds to grow; Good light, good water & water changes with good bottled water. If you remove the food that is feeding this kind of algae, then it won't grow. Light is one type of food for plants & algae. Make sure the food you use for the fish, is good quality, too & don't feed too much. Fish can eat & eat. What their body' don't use, goes right through. This pollutes the water. Having sucker fish won't hurt & they add something different in the tank.

Louise B.
Silver Feedback Medal for All Time! 337 Feedbacks
June 28, 2009
0

found this helpful
In my experience, you get brown algae when you do not get enough light in the tank. I got it when I put red lights in the tank. Also, I have read that brown algae is not good for the fish and that algae eaters won't eat it. I can't speak to that as we got rid of the red lights, put in regular ones, and solved the problem that way.
Green algae is unsightly, but is healthy for the fish. Often I have had a tank that was covered with green algae, but when you looked inside, the water was sparkling and the fish were healthy. Anyway, I would change the lights in your tank, or put one in. If you have no lights, perhaps it needs to be put in a more lighted location.