January 9, 2007
0

found this helpful
Try soy! Soy beans, soy milk, tofu. It's VERY high in protein, but because there's no animal bi-products, it's very easy to digest. It also takes on the flavor of anything it's with. It pretty much tastes like air.
By (Guest Post)
January 9, 2007
0

found this helpful
There is a rabbit based dog food available.
By woofey (Guest Post)
January 10, 2007
0

found this helpful
I would consider the Raw Diet. You can get all the informatation on line. Good luck! We have one dog that we put on the Wellness brand of dog food a few years ago and so far, knock on wood, no problem!
I have friends who feed the Raw Diet with very good luck.
By Ingrid (Guest Post)
January 10, 2007
0

found this helpful
We had a cat like that, and she ate special duck and peas canned food....
Also check out a fantastic product from Gardens Alive called: Pets Alive. A supplement that reduces itchiness and skin issues.
Good luck with this, and great that you are committed to finding a solution. A gold star to you for Critter Care! : - )
By Gina (Guest Post)
January 10, 2007
0

found this helpful
I suggest you try a food called Blue Buffalo. It is sold commerically at Petsmart . The difference with this food from any other food I have found is it is all holistic whole foods. No soy , wheat or corn and whole meat product. Soy, wheat and corn are notorious for causing allergies. This has helped siginificantly with my dogs allergies. The dog needs to be on it a while. And make sure you switch foods slowly. Seventy-five percent old food twenty -five percent new and so on and so on.
Until you are fully on the new food. It is a very good food. You will not be paying anymore than you already are for your specialized allergy foods. Do not buy the chicken , stay with the fish , lamb. If this does not work after 6-8 months or even more, then I suggest a vet dermatologist that specializes in vet allergies and does patch test on dogs, I think it is called IDST tests. It has been a while since I worked for specialized vets.
By Lynda (Guest Post)
January 27, 2007
0

found this helpful
Try giving the dog Acidolphylus once a day in two
raw, or slightly cooked eggs, with a dash of garlic powder, to see if the skin improves. It may not be
an allergy to foods, either, but perhaps to a number of things, ranging from floor wax/cleaning chemicals in its nails, dust mites embedded in the bedding or fur/skin, or to the dye in some cloth. If it gets into
soil, it might have picked up a fungus. Change your
mop and use only mild weak cleansers on your floors. See if it is too near the heating vents that may be drying already dryer skin. The eggs and
Acidolphylus should make a difference even though
vets aren't taught about it, nor are medical doctors,
likely because it heals things so well and they'd be without business. lol God bless you. : )
April 27, 2007
0

found this helpful
Shih Tzu Allergy & Yeast inf
I have a 9 yr old that has been on allergy injections for about a yr. She was on steriods for 5 yrs and we had to stop. She has a terrible yeast inf of the skin and is allergic to everything we have tried to cure it with. ( Shampoos and any drug in the family ending with zole...she is allergic to ) Maleseb shampoo has been the worse reaction. I used it 2 mos not knowing why her hair was falling out and severe itching.
I just changed her food to lamb and rice homemade yesterday. Her allergy test were off the record high for dust mites, fleas and grass etc. My thinking is if she has so many allergies to grasses etc that she may also have food allergy and may be why I can't get her cured. I keep hoping somebody will help me find a cure. I have even tried a dermatoligist. Please if anyone has any answers for my itchie , stinkie and greasy dog.
January 22, 2016
0

found this helpful
My dog gets yeast infections from potatoes and dry potatoes in many dog foods.
My previous had surgery two times on ears...then I realized it wassweet potatoes in Tsste of the Wild.
December 30, 2016
0

found this helpful
Try Ego pinetarsol wash . Great for humans and dogs. I used it on my poodle when he had allergic reaction and he was scratching himself to the point where he was losing his wool. His diet changed to kangaroo fish sweet potato and broccoli. It took a couple of months to really work.
I'd recommend it.
November 20, 2008
0

found this helpful
try nutro ultra.Nothing else- absolutely no snacks,no people treats, seasoned foods or, dog biscuits- nothing! Just nutro Ultra.You could see a difference in just three days- I did.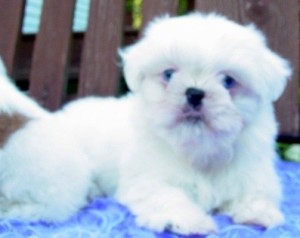 By Lisa from Japan (Guest Post)
December 26, 2008
0

found this helpful
Hi,
I have a six year old Shitzu who is having severe allergic symptoms. He has been scratching constantly and losing clumps of fur. his coat is dull too. we recently moved to Japan and our house is very old and nestled among several oak trees. there is definately a mold issue going on. I am so overwhelmed with concern for my dog and I don't know where to begin. I have switched his diet but he still is scratching and losing fur. Any advice would be a huge help.
January 5, 2010
0

found this helpful
I know this is a old post but I came across this and had to respond. One word "corn". My vet and I tried everything for my baby and nothing seemed to work. She was literally pulling her fur out and in so much pain. I went into a pet store in a new town and started to talk to this lady and she said not many people think about it but dogs have issues with corn.
She showed me some food without corn and I have been using only dog food without corn since! Doesn't matter name brand, just no corn. It took about a week and a half for her to calm down with the itching but in the end she is fabulous now!