With Father's Day fast approaching, here's a "sweet" gift that Mom and the kid's can make together. Dads like flowers too. Just make them in the shape of tools and gather them all together in a work glove for a useful and tasty gift, all in one!
Approximate Time: 1-2 hrs. approx.
Supplies:
foam in assorted colors
pair of new work gloves
cloth measuring tape
hot glue
aluminum foil
assorted candy and beef sticks
copy of poem, if desired
Instructions:
I will provide what I used to make the tools, but you can use any candy or such that you choose.
Purchase these first so you can judge if you need to adjust the size of the patterns.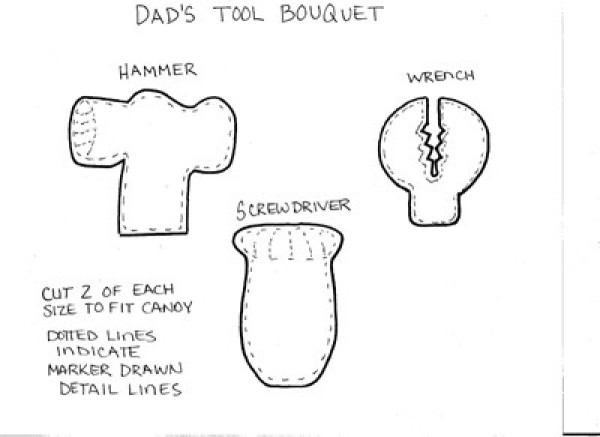 Hammer: I used a short beef stick. Cut hammer head pattern, adjusting size if needed.
Draw details on with marker. Cover beef stick with strip of tin foil tightly wrapped.
Hot glue both pattern pieces together with end of stick inside.
Screwdriver: I used a long beef stick. Follow instructions for hammer and shape end by folding foil to resemble tip of a screwdriver.
Wrench: I used a bubblegum rope stick. Cut pattern pieces to fit your candy and draw detail lines.
Wrap stick tightly with foil and bend in half. Glue wrench head pieces on with bent center inside.
Cut a 1 inch wide strip from foam and glue around the base of the wrench head.
Ruler: I used a cheese and beef stick combo pack.
Use a tan or brown piece of construction paper and roll combo pack to cover.
Use double backed tape to secure. Trim ends if needed and glue closed. Use marker to draw ruler lines on.

Tape Measure: I used bubblegum roll ups.
They come in a round plastic container. Open and cut off approximately 8 inches of gum. Close container.
Wrap this length of gum in foil and fold up end to resemble a tape measure.
Cut a length from cloth tape the same as gum strip and adhere to top using doubled back tape.
Attach end back onto container using tape. Cut a circle from foam to cover front of container. Write "Dad's tape measure" on it.
Put all the "tool" flowers in a work glove and tie a bow around it using the cloth measuring tape.
Attach a copy of the poem I wrote or one of your own.
Poem:
We're giving you some flowers
That are made special for you
Then we added hugs and kisses
For all the things you do
Today your "To Do" list is empty You deserve a day to rest
And we want you to know with all our heart
We think you are the BEST!
By Mary from Palm Coast, FL