This is Mouser, one of our 3 cats. We adopted him when he was just 1 year old and have had him 1 1/2 years now. As you can see, he's very curious and loves to jump to high places and even get into our cupboards. I couldn't believe when he actually got into this cupboard -- I quickly grabbed my camera and snapped the shot before he jumped down again!
He's such an easy going cat, when we brought our 2 other cats into the household he accepted them right away and plays with both of them. My best pet tip is that I keep collars with bells on my cats all of the time so I can hear where they are.
Each bell has a different sound, so I can easily distinguish who is where. It's a simple tip, but it has helped me find them if they're hiding and I need to take them somewhere, etc.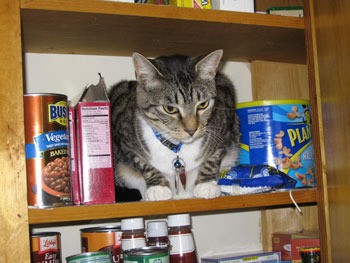 By Mary J. from Florence, SC