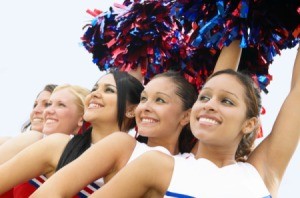 I am looking for ideas for cheerleading end of the year gifts.

Mlucian from MD

Answers

July 11, 2007
0

found this helpful
for all their hard work, I think any kind of spa treatment would be wonderful. A massage, facial, manicure, pedicure, anything to pamper them. something soothing and relaxing, these girls work so hard, they desire a little luxary and comfort. toppersresort

July 16, 2007
0

found this helpful
the only problem with the previous answer is that not all cheerleaders are female. My grand son is also a cheerleader.
By Sarah (Guest Post)
July 18, 2007
0

found this helpful
A goody bag is always great. Stuff like Bath and Body works (has male stuff), claire's botique..etc. You could put it in a cute basket. It's so much fun to rummage through a goody bag!!
By (Guest Post)
November 3, 2007
0

found this helpful
For the clubs I sponsor, I try to give not only a real treat, but something very personal too--like a mug printed with squad photo then filled with something...or a photo album with quotes from the season, or giving each member the same charm on a necklace--something really special to create and keep memories.
By Stormy (Guest Post)
November 15, 2007
0

found this helpful
I got an email from this website. I was amazed by the prices. Check them out. Here is the address:
www.ramgraphics.com/cheer.novelty.html
By anonymus (Guest Post)
November 2, 2008
0

found this helpful
Get a wooden letter for the first name of all the cheerleaders. Paint it the school or teams colors and rhinestone the outside of the letter on the front. On the back write the school name and a personal note.
Or get those frames that people can sign and put a team picture in it. Then give them to all the cheerleaders and they can sign on each others.
Answer

this Question
As the assistant coach at a local competitive cheer gym I am beginning to think gifts for the holidays. There are 23 kids on the team and 19 of them are girls, 4 are boys. I am making the girls little teddy bears with the colors on them, and I am not sure what to do for the boys.
The boys' ages range from 8-12 so I am not sure. I am really trying to stay on a strict budget because I am saving up, and they really all could begin to add up. The girls should each be about $2-3 a piece, and if the boys could be that or less it would be great. Thanks so much! I need help.
By Hailey from Phoenix, AZ
Answers
October 9, 2012
0

found this helpful
Wristbands made from rope are popular. Ropes come in different colors. You can probably find directions and sources for rope on the computer.

October 9, 2012
0

found this helpful
Make backpack bags from nylon they can hoist over their shoulders from cords. I forget what they're called but it's a bag with two loops of cord that cinch the bag and are worn over the shoulder. They're everywhere. Make them in school colors.

October 9, 2012
0

found this helpful
You could do key chains in the colors also - shrinky dink is a craft medium that makes just about anything!

Louise B.
Silver Feedback Medal for All Time! 337 Feedbacks
October 9, 2012
0

found this helpful
As a mom of boys, (although all grown now), I can safely say that your younger boys would like teddy bears as well. The 12 years olds - maybe not. You might want to ask the boys if they would like the same memento - the bear.
I am pretty sure your 8 year old boy is going to like a teddy bear better than a key chain.
Answer

this Question

As the assistant coach for the cheer team at the local high school, I am trying to find an inexpensive gift I can give to the seniors on the squad. We have 9 seniors this year! Last year, we found some small teddy bears at the local drug store that had cheer uniforms on in the school colors. If you can believe it, we only paid about $2 apiece for those. I am looking for any ideas you have to share with me. Thank you so much!
Tina from Ashland, OR
Answers

March 27, 2009
0

found this helpful
I would go to your local bead and jewelery store and buy some nice glass beads (glass beads are beautiful and inexpensive!) using school colors (or varying colors in the same color family) some jewelery wire or sting and clasps. You could make necklaces or bracelets!
This is an inexpensive gift and girls love, love, love jewelry. If you make the jewelry look classy and unique it might be something the girls will always keep. It would make a found memory to commemorate their time at school and on the squad! Good luck.

April 7, 2009
0

found this helpful
My friend did something similar for her son's baseball team. She did one scrapbook page for each young man, with pictures of each boy, and the decoration on the page in the school colors, various prints. She couldn't afford some of the 'scrapbook' papers, so she used wrapping papers, felt, remnant fabrics and trims, etc. They all came out great!

April 14, 2009
0

found this helpful
When I was in high school, (70's) the girls in our cheer squad were each given a keychain. Someone had cut out and handpainted a little 3"long cheergirl out of wood and handpainted the uniforms on them and matched their haircolor and printed each one personally with their name.
A keychain was attached.
Answer

this Question