When I visited London a few years ago (earned a trip there), I was taken to dinner to a fantastic seafood restaurant that had a fantastically delicious dessert called Spotted Dick. It was like a super-rich super-flavorful Bread Pudding.
Here's a shot of the menu: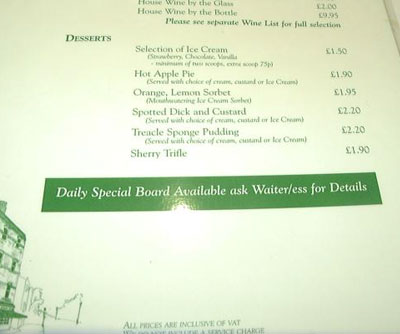 and here's a shot of the half-eaten Spotted Dick: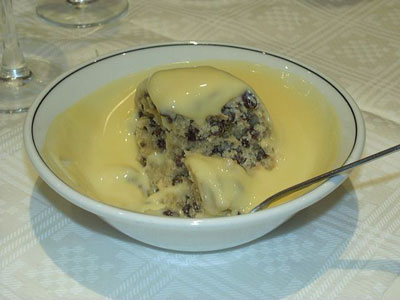 There's a funny story behind this particular evening. When I saw S.D. on the menu, I blurted out, without thinking, "If I saw Spotted Dick in the United States, someone might need to go to the hospital." Everyone at the table burst out laughing, even Lady Mary. Later, when I was out of the room, they talked the waitress into letting me keep the menu as proof that I had eaten Spotted Dick. (I still have it somewhere.)
I'd love it if someone has a recipe to share.
By John