Living a thrifty lifestyle has allowed my husband and me to retire from the corporate world at the age of fifty five. We have always spent less than we earned. Two savings events made it easy to live on less; maxing out our 401ks and starting college saving plans for our children as each was born.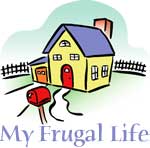 Those two critical decisions allowed us to save tax deferred dollars and because we didn't see the money in our paycheck we weren't tempted to spend first and save later. When our sons graduated from high school, they knew they had a lump sum to spend on their education. This knowledge gave them control over how to spend for their education and freed us from constantly receiving requests for money.
Saving money for retirement and college takes a lot of discipline, especially when you start saving in your twenties with retirement not even on the horizon, the college bound kids still in diapers and sometimes living paycheck to paycheck. Compound interest and time are secrets to successful savings. Savings bonds were purchased each month; at first in twenty five dollar increments, which was all we could afford.
Over time those small savings bonds accumulated so that our eldest son was able to graduate with a master's degree - debt free. Maxing out 401ks during the entire span of our careers allowed us to retire at 55 with a 401K fully funded.
So how did we live on our take home pay after funding the tax deferred 401k and savings bonds? We usually carried our lunches to work. I shopped from the grocery ads, planning menus around store sales. I made a grocery list, only bought the items on the list. I used coupons when I could match up a manufacturer's coupon with a sale at the store. I watched our expenditures, reviewing annual bills such as insurance, property tax, car maintenance and licenses and, pet expenses.
All annual expenses that I could estimate a dollar amount spent per year were divided by 12 and that amount was saved monthly for future bills. For example if car insurance was $600.00 a year I put aside $50.00 per month, when the insurance came due I was able to pay it using money saved monthly. I eventually set up a spreadsheet on the computer but the same result could be achieved using envelopes.
This method of budgeting alleviated worry and the money was earning interest until it was needed to pay a bill. We have not felt deprived, using this method of budgeting we were able to take several trips aboard, purchase a new car when needed and move to a larger home,
Holly from Minneapolis, MN
Do you have a frugal story to share with the ThriftyFun community? Submit your essay here: http://www.thriftyfun.com/post_myfrugallife.ldml