CoCo (Beagle/Corgi Mix)
This is CoCo, she is 7 years old and a Beagle/Corgi mix. We rescued CoCo from the SPCA on December 19th 2004. Our local SPCA rotates the dogs back a row each day until they reach the last row and then they are taken to be destroyed. CoCo was next in line and the guy came out to get her and we told him to stop so we could pet her and she stole our hearts! Coco loves to run and wrestle with my husband and daughter. She is extremely tolerant with my daughter who tortures her with her version of "love"...that can mean anything from putting a cap and sun glasses on her to making her camp out in her tent with her. Coco is a beautiful blessing to our family! She is very intelligent, faithful and protective. She shows she loves us as much as we love her! This picture is a favorite of mine, it is CoCo with her girl taking a nap!
By mom2beauty from Wilmington, DE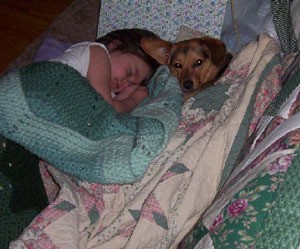 Add your voice! Click below to comment. ThriftyFun is powered by your wisdom!
April 27, 2007
0

found this helpful
I am so glad you rescued CoCo, and I'm sure she's paid you back many times over with love! Rescued dogs are the best kind, as far as I am concerned. I have two of them right now - an 11-year-old female dachshund whose owner died, and a 10-month-old golden retriever mix who was picked up on the roadside by animal control. I've had them only about two months and they've both already stolen my heart! Give GoCo a big hug and kiss from Missy's and Goldy's Mama. God bless you!
April 29, 2007
0

found this helpful
She's a beautiful dog and that's a lovely picture - Best Friends. It's hard to think about what happens to unwanted pets. I'm very glad you saved CoCo.
By guest (Guest Post)
March 29, 2008
0

found this helpful
I also have a beagle /corgi mix and she is the best dog I ever had! I found her at the dog park abandoned because she had 2 separate femur breaks that had healed so much the doctors couldn't fix it. She is able to use it some but it doesn't stop her from running and playing with the big dogs! She is the love of my life. Her name is Chloe.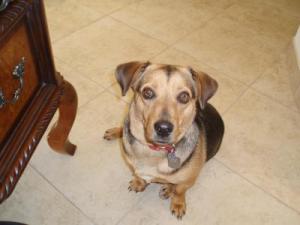 By guest (Guest Post)
June 30, 2008
0

found this helpful
OH MY GOD what a sweet doggie! MY family and I have a Beagle and a Corgi and they are both very nice, protective family dogs. Congrats!
By guest (Guest Post)
January 20, 2009
0

found this helpful
When I saw your beautiful picture of Coco, I had to tell you that now I know I have a corgle too! They are beautiful and extremely intelligent dogs, aren't they? We love our corgle dog Maggie, and we know she loves us just as much too. We always knew she had corgi in her but were not exactly sure what the other half was until I stumbled upon this picture. It just amazes me each day how smart she is. The day we lose her is going to be one of the saddest days of my life. Congrats with your corgle. She looks exactly like our Maggie!
January 17, 2010
0

found this helpful
WOW! CoCo is beautiful. I have a Corgle too! I rescued her September 9, 2008 from a local WalMart. The workers said she had been there about two weeks and I couldn't stand to leave her there. I always thought we had a Baglehound but both vets I've taken her to saw the Corgi in her. After our visit to the vet yesterday for annual shots, I decided to Google Corgle and found your CoCo. Francesca too is loyal and loving and tolerates my 14 year old version of love as well. Fromone Corgle owner to another. Lots of Corgle love!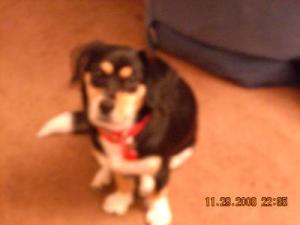 Add your voice! Click below to comment. ThriftyFun is powered by your wisdom!
Related Content
In This Guide
Categories
Guides
More
Categories