Merlin is 5 years old. We believe that he must be at least part Maine Coon because he is the largest cat that I have ever seen. I have also heard that they are very calm and sweet and laid back. That sure fits my Merlin.
He has white cottony fur with one gray spot on the back of his head that looks like an angel with her wings spread. He has one blue eye and one green eye. That is why we named him Merlin.
One hot August afternoon, I was working in my front yard. I saw a white cat lying in the grass by the street. I didn't think much of it, but the cat was still there when I finished my work. Afraid that the cat might be injured, I walked near. The cat didn't run away, so I called to it and it ran to me.
The poor little kitten was so dirty that I didn't realize that he was all white. He was infested with fleas and so thin that you could see every bone in his body. I was afraid to take him in with my other cats, not knowing if he had some disease. But I fed him and put him in a crate until morning, then I took him to my vet. The vet sprayed his fleas and pronounced him healthy, but almost dead from starvation.
We kept him in a room away from our other pets for a week. I fed him night and morning and my son fed him a meal while I was at work. He would eat, drink water, and use his litter box and then fall asleep on our chests. My son was worried that he wouldn't play like a kitten should. But he was just starving and exhausted. No telling what he had gone through. When I bathed him, I found that he was solid white except for one gray spot on the back of his head. The rest of the gray was road dirt.
After a week of rest, he was ready to play and join the household. And then he began to grow and grow and GROW! Merlin likes to sit in the window and watch the world (and the birds) go by. He is always watching when I leave for work and when I come home. Merlin plays gently with my 2 other cats. He knows that he is much larger than they are. And they love to groom him for some reason.
He also enjoys teasing the dogs and making them chase him. Then he will get under a table and just stop! The dogs never do catch on, they play his game anytime that he wants them to. But mostly Merlin likes to cuddle and purr. He is the sweetest cat that I have ever had. He loves and is loved by every member of the family, including my Chihuahuas that he loves to tease. They are often seen sleeping in a cuddling mass of cat and dog.
We don't know where he came from nor how he found his way to my house. It seemed that he had a long and difficult journey. But when he arrived, he was home. He is the sweetest, most loving cat that I have. And with his size that is a very good thing. If he was ever in a bad mood, he could really do some damage! He never is tho, he is very even tempered.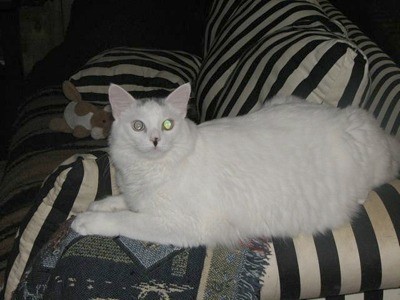 By Janus